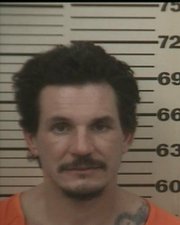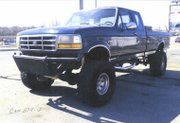 Jefferson County Sheriff's officials are seeking the public's help in locating a 44-year-old man wanted in connection with numerous burglaries and thefts in Jefferson County.
Sheriff's officials identified the suspect Tuesday as Russell Dean Baston, who is known to travel among Douglas, Jefferson and Shawnee counties.
"Baston should be considered armed and dangerous," Detective Sgt. Kirk Vernon wrote in a news release.
He is described as 6 feet, 1 inch tall, between 225 and 250 pounds with brown hair and brown eyes. He was last known to be driving a stolen Green 1995 Ford F-250 extended-cab pickup truck with no license plate.
Jefferson County Sheriff Jeff Herrig said that in one recent burglary in Jefferson County, Baston is suspected of firing a round while inside a house, but the victims were not home at the time and no injuries were reported. He's also suspected of stealing vehicles in Lawrence and Topeka.
Baston has spent time in prison in Kansas, including for a 1995 attempted aggravated robbery conviction for an incident northwest of Lawrence, according to the Kansas Department of Corrections. He also was convicted for a Jan. 21, 1996, escape from Douglas County Jail. According to news reports at the time, Baston overpowered a corrections officer who was delivering inmate medications and broke a lock on a perimeter door, slipped down a stairwell and exited through a first-floor door.
Jefferson County Sheriff's officials asked anyone with information about Baston to call the sheriff's office at 785-863-2351.
Copyright 2018 The Lawrence Journal-World. All rights reserved. This material may not be published, broadcast, rewritten or redistributed. We strive to uphold our values for every story published.