Kansas University Endowment Association officials say a historic, century-old iron fence was damaged last weekend outside Sprague Apartments near 14th Street and Jayhawk Boulevard.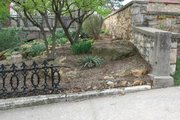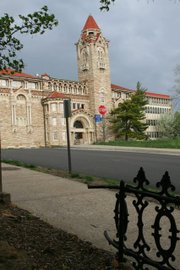 A five-foot section also was torn off and several ornamental iron pillars were removed, and KU Endowment officials are just asking for the pieces to be returned — no questions asked — so repairs can be made. The fence runs along the south sidewalk of 14th Street.
"Short of having custom castings made, the pieces are irreplaceable," said Monte Soukup, KU Endowment's senior vice president for property management. "We'd just like pieces back to maintain the historic integrity of the fence."
Assistant KU police chief Chris Keary said the theft occurred Saturday night or Sunday morning. A police report listed loss and damage at $10,000, he said. The endowment association owns the apartment building for retired faculty members.
The apartments, completed in 1960, occupy a historic campus site. Charles Robinson, a founder of Lawrence and Kansas' first governor, originally sold the property, according to KU's campus building directory. A later owner, Brinton Webb Woodward, a Quantrill's raid survivor and founder of Round Corner Drugstore, added an art gallery and named the house and grounds Brynwood Manor. The house there was later refurbished and opened in 1940 as Templin Hall, a scholarship residence for men. Templin also later housed women and Naval officer trainees during World War II before it was demolished in 1959.
Soukup can be reached at 832-7435 and the endowment association's offices are at 1891 Constant Ave. in Lawrence.
Copyright 2018 The Lawrence Journal-World. All rights reserved. This material may not be published, broadcast, rewritten or redistributed. We strive to uphold our values for every story published.