For the seller
Where can I put garage sale signs?
The City of Lawrence has regulations about where garage sale signs can be placed. According to the city's website:
Private signage cannot be placed on public areas or right-of-way easements.
Signs should direct traffic to the garage sale using arrows, etc.
One temporary directional sign is allowed on private property. If the property where the sign is placed does not belong to the garage sale holder, permission must be obtained from the property owner.
Signs cannot be larger than two-foot by two-foot, or four square feet.
Signs can be in place from 5 p.m. Friday to 5 p.m. Sunday.
For the buyer
It's possible to get some great finds at garage sales. However, some items shouldn't be bought at garage sales to protect your safety. Here's a list of 10 things you should never buy at a garage sale, according to Reader's Digest.
Bike or motorcycle helmets
Child car seats
Tires
Wet suits or swim suits
Mattresses
Cribs
Laptops
Plasma TVs
Shoes
Hats
Photo Gallery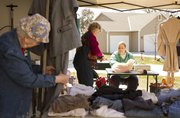 Garage sales
Local aficionados say garage sale season lasts from March through October.
Kristen Hayes normally plans ahead a little bit more when she holds garage sales. Earlier this month, though, her garage sale was spur-of-the-moment. She was driving home from work on a Friday afternoon and saw garage sale signs posted up in her neighborhood. As a mother of young children, she said she is always ready for a garage sale. The weather was beautiful, so she went for it.
"It's just that time of year when people are getting out again," she said.
Hayes, of Lawrence, advertises her garage sales on Craigslist and Facebook. Despite not having time to use those methods of advertisement, she still saw plenty of customers. She opened her garage sale at 10 a.m., but she said people started peeking their heads in her door at 8:30 a.m.
Hayes is a pro when it comes to holding garage sales; she said she normally holds two a year, one in the spring and one in the fall.
She did try something new this time around, though. Rather than putting individual stickers on each item, she marked items using different colored stickers. Each color corresponds to a different price.
"This was the first year I color-coded, and it's a lot easier," she said.
According to the City of Lawrence's website, residents are not required to get a permit to hold a garage sale. However, garage sales are limited to two per household each calendar year.
Jeff Bunker normally puts on one garage sale a year. He sits on a stool at the edge of his garage. His arms are crossed as he waits for customers. Items are strewn across his driveway and yard.
There's a church pew, a pre-Victorian wooden bird cage, wine crate tables, antique figurines, a lawn mower, bundles of yarn and a collection of old books. He also has a vintage wedding dress and an armoire he's selling, but those are inside. In some respects, his garage sale looks more like an antique mall set up on a lawn.
"Everybody needs a church pew," he says to some customers standing by the pew.
Bunker normally hits five to six garage sales a weekend during prime garage sale season, he said. But this weekend, he's on the other side. He put a lengthy post on Craigslist to advertise the sale.
"It's just a way to get rid of the crap," he said. "This is just clearing out."
Going to garage sales is his real hobby.
Bunker said he finds garage sales using Craigslist, newspaper listings or simply signs around town. Lately his garage sale ventures have gone high-tech, though. He has started using smartphone applications such as Garage Sale Rover and iGarageSale Lite. The applications use Craigslist postings to map garage sales that are close to your location.

He said the secret to getting good deals at garage sales is to bundle items together. A few items might be marked for a $2 or $3 dollars each, he said, but making an offer to buy them all for $10 is worth a shot.
Bunker employs that method at his own garage sale, too.

"Make an offer on anything you like," he says to his own garage sale-goers.

When he is the shopper, he tries to look for items that he can fix up or sell online. Bunker once bought a small hand-carved wooden vase at a garage sale for 10 cents. He later sold the vase on eBay for $130.
"Sometimes, people just don't know what they have," he said.
For Beth Riddell, owner of Bebe's Cottage at 835 Locust St. in North Lawrence, going to garage sales has been a "lifelong passion."
Though she doesn't make it to as many garage sales as she used to, peak garage sale season in Lawrence is from March to October, in her experience.
For those who want to get good deals at garage sales, she said she recommends organizing your stops by geographical area.
"If you don't have a route outlined," Riddell said, "you can waste a lot of time and gas."

She and her partner, Bruce, go to garage sales, consignment shops, thrift stores, estate sales and the like to look for items that "need some loving." Together, they fix up items and resell them. She said she loves finding vintage stereo cabinets and dressing tables.
Riddell, who is also an accredited home stager, enjoys showing people how they can put items together in ways they may not immediately think about.
"We love the hunt," she said.
Copyright 2018 The Lawrence Journal-World. All rights reserved. This material may not be published, broadcast, rewritten or redistributed. We strive to uphold our values for every story published.