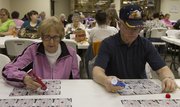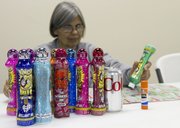 I guess I want a nine on, with an early bird.
At least that's what I tell the guy at the window, hoping that I haven't just screwed up that bit of lingo — because it sure seems like the type of phrase you don't want to screw up.
Eighteen dollars later, my new friend Jim passes me 17 sheets of paper through the window, most with nine sets of numbers — thus the nine on — and the magic "B" word plastered across the top.
That's right. I'm at the American Legion on West Sixth Street to play some bingo. Correction. I'm here to win some bingo.
Tonight's the night to do it because there's the potential for two $1,000 pots, a guarantee of at least two $300 pots and a $200 winner. Everything pays at least $50, except for the early bird games that pay $40. (Oh yeah, I got the early bird.)
That's good news because these days winning money has never been bigger business around these parts. The state of Kansas has gotten into the casino industry. New multimillion-dollar facilities have been built near Wichita, Dodge City and now in nearby western Wyandotte County.
The loosening of the state's casino laws has made it easier than ever to test the axiom that "money won is twice as sweet as money earned." But for decades it wasn't so easy. If you wanted to gamble in Kansas — legally, anyway — there was basically only one way to do it.
And (apologies in advance) bingo was its name-o.
• • •
If bingo is the old-school way to gamble, the Hollywood Casino just 29 miles east of Lawrence in Wyandotte County is new school. Where American Legion banners and baseball trophies line the walls of the bingo hall, velvet ropes leading to $14 lunch buffets and waitresses equipped with black skirts and cheap drinks fill the casino.
And slot machines, wing after wing of electronic
gaming machines with names like China Shores, Voyages of Sinbad, and Super Lucky Lotus. Nostalgia was evident there too. John Wayne's name graces one machine, and Dean Martin's Vegas Party lights up another.
But what the … is this? Alice and the Mad Tea Party. Pink and frilly and empty. This is gambling these days? I nearly take a seat, but surely Dean Martin would rise from the dead and whack me with an empty vodka bottle.
• • •
In my little hometown, the American Legion runs bingo three nights a year for the community's fair days. For more than 20 years I've been a regular player of those games — and I've never won a single, solitary time.
Maybe I'm a trendsetter because fewer people are winning at bingo all the time. Patsy Congrove, the state official who oversees bingo regulations for the Kansas Department of Revenue, said the level of play has declined over the years. The state collects .002 of a cent on every bingo card played in the state. In 1997, the state collected a little more than $1 million from the tax. Last year, it was about $400,000.
The pastime isn't what it used to be in Lawrence either. Not even a decade ago you could still find a bingo game every night of the week in Lawrence. Now, it is down to the American Legion on Wednesdays and Saturdays and the Eagles Lodge on Fridays.
But Hank Sipple, finance manager for the Lawrence American Legion Post, said better days may be ahead. A 2011 change in state law began allowing for "instant bingo," a type of game that involves elements of the lottery, bingo and even horse racing. (I'm not going to explain it further, other than to say there is a lot of bingo involved because I didn't win at that game either.)
Sipple said that before the law change, the American Legion had gross receipts of about $240,000 a year in bingo and pull tab sales. Now he's expecting gross revenues of about $380,000.
"It is paying quite a few bills out here," Sipple said.

And tonight it is going to pay a few bills at this table, too. I can just feel it. It is the first game of the evening, and we're playing some bingo game called Chevron. Your bingo has to be in a pattern that looks like an old Chevron gas station logo. Really. I couldn't make that up if I tried. Bingo is full of such wackiness. There's an almost endless number of patterns, and tonight we'll play Small Diamond, Postage Stamp, Checkmark and others.
The first ball comes out and it is O 66. O, six, six. Oh yeah, one for one. Ten calls later and my card still only has a 66 marked. Too bad there's not a game called 66.
But by game No. 5, I've found my bingo rhythm. The place definitely has a flow. The socializing before games comes to a grinding halt, and out come the dabbers: Big ink sticks used to mark your card when a number is called. It is not uncommon to see women or men carrying bags full of dabbers — easily holding a dozen or more dabbers of varying colors.
Across the table from me, Sunny Church has so much ink it would make a Journal-World pressman blush. She's a children's librarian in Wyandotte County and a widow. She plays bingo three nights a week, and she wins almost every night — even when she doesn't win money.
"I've met a lot of people playing bingo," Church says.
That's the mantra of most bingo players. It is a chance to be social.
"We talk about each other to each other," says bingo player Janene Rist.
But most also will admit that the money is nice, too.
Indeed it will be.
All that is left before I stand up, flip this table over, rip off my shirt a la a soccer goal celebration and yell BINGO is G-59. G, five, nine.
One ball goes by, two balls go by ... six balls in total go by. Then, then ... "BINGO" — from Sunny, right across from me. Calm and cool, she says it. Did I mention she was also a Marine Corps captain?
"He gets you there and then leaves you sitting," is the refrain I would hear from some bingo players. But from Sunny, no words of encouragement.
"You don't even feel bad, do you?" I ask her.
"No, I don't," she says.
I regroup and remember something a bingo player had told me earlier in the evening.
"Bingo is a blood sport," says Connie Nokes from Eudora. "Didn't you know that?"
Do now.
• • •
Here's the experiment: I kept track of how much money and time I spent playing bingo. And now I'm at the Hollywood Casino to spend the same amount of money and see how much time it takes me to do so.
I paid $18 for my bingo cards. That allowed me to play all 17 games called at the Legion that night. The rest of the money I spent at the bingo hall was for what you could call the equivalent of Gatorade for bingo players. You must stay fueled up, and I did so with a polish sausage, nachos, a root beer, a Snickers and a piece of chocolate pie from the snack bar. I also bought two instant bingo pull tabs for $1 a piece.
In total, I spent $27 at the bingo hall. I was there for five hours. The instant bingo — and the socializing — begins at 4:30. The real bingo begins about 6:30.
At the casino's dollar slot machine, it has taken me six minutes and 20 seconds to go through $18. I have won $9 of the $18 back, but it seems like I've lost something besides money.
I remember a comment Mary Benteman told me in the bingo hall. She has played bingo for 47 years, and I was trying to get someone to explain why such an arcane game exists in such a high-tech world.
"It is the anticipation," she said. "Waiting for that next number to be called. At my age, that is something to enjoy."
With a slot machine it is different. Every push of the button can bring financial reward, but there is so little time for hope with a slot machine. On one spin, I was a single "7" away from winning $40. But I didn't realize that until the game was already over.
With bingo, there's plenty of time to wait and wonder. And mutter.
G-59. G, five, nine.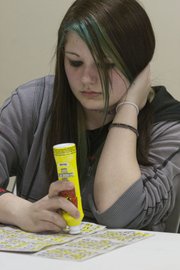 • • •
We're now playing the bingo game Six Pack Anywhere. A six pack at my table would be better. Bingo is one activity where practice doesn't help. I've gotten worse as the night has worn on. My dabber has the brand name Dabbin' Fever. My dabber doesn't even have a pulse, let alone a fever.
In just a few short hours, the game has become for me what it becomes to most people who play it — more about the people than the numbers.
There's a girl in the far corner who has a streak of green that runs through her hair. She's 14 years old and has come here most every week for the last four years with her grandmother. She's given me the best strategy of the evening: "Don't fall asleep and try not to text too much."
"I don't care if my friends call me a dork," says Allison Lane, a Liberty Memorial Central Middle School student. "At least I'm not wasting my time getting in trouble, and I'm with my family doing something decent."
Bingo made a winner of one grandma tonight.

The snack bar attendant closes up shop a little before 9:30 and starts to head out the door. Everyone breaks the bingo code of silence and shouts out "Goodnight, Vickie!"
Ultimately, it is about time for all of us to say good night. The last game of the evening is a blackout game. You can win $1,000 if you fill your card before 58 calls are made. Otherwise, the prize drops to $300, and you have to wait another week to win the really big money.
My fate was sealed long before the 57th ball arrived. It appeared the $1,000 wasn't in anyone's future tonight. But then bingo became bingo again and turned anticipation into adrenaline.
Marian Boedeker, of Kansas City, Kan., hit the $1,000 bingo on the last possible call. She had waited and wondered for three calls before her number came up. She yelled "BINGO!" and somehow did not flip the table over.
"I guess I'm going to have to pay for the turnpike toll on the way home," she said.
• • •
Back at the casino, it was as bad as I thought it would be. The pink, frilly machine uses some type of electronic megaphone to say, "Glad you could join the tea party," as I stick my dollar into its slot.
I have $9 left to spend as part of my experiment. I've switched to a penny slot machine. Yes, that machine. At about the four-minute mark of my play, the jolly voice comes back and tells me I've won something called a "super mad re-spin." Then it tells me to pick a teapot. I had to do that four times. It was something like a shopping trip to Dillard's.
But after the fourth teapot, a little bell rings and I have $44.46. I swear, I have no idea how. There were several icons on the screen that said "Alice," but they weren't in a row. There also was cake that said "eat me," a fellow in a purple top hat with a tea cup, and a bunny rabbit with a bugle.
I wish I knew which one to thank, although I've decided I'll always have a warm spot in my heart for bunnies with bugles.
There's only one possible explanation: The gambling gods had fallen asleep. I never win, not even $44.46. But then they woke up. I try to cash out, and the printer on the slot machine is jammed. At the office, I'd just pound on it, but that doesn't seem to work here.
But after about 20 minutes and two technicians, I get my receipt that entitles me to $44.46. Add the $9 I won on the other machine, and I walk away with $53.46. I spent about 12 minutes playing the games.
It was fun. But I can't help but think that G-59 would have been even better.
Stinking G, five, nine.
Copyright 2018 The Lawrence Journal-World. All rights reserved. This material may not be published, broadcast, rewritten or redistributed. We strive to uphold our values for every story published.