Police have made one arrest in an early Saturday morning shooting of a 30-year-old Lawrence man, said Lawrence Police Sgt. Ted Bordman.
The shooting occurred at the Taste Lounge, Bar and Grill, 804 W. 24th St., between 1:30 a.m. and 2 a.m. Saturday. The victim was taken to Lawrence Memorial Hospital by a bystander at the scene, and his injuries were not believed to be life-threatening, police said.
Bordman did not confirm the identity of the man arrested, but the Douglas County Jail booking log shows that a 20-year-old Topeka man was arrested in the same location and during the same time frame as the shooting. In addition, the police case number from the Lawrence police department's website matches the case number on the jail-booking log.
The man has been charged with aggravated battery, possession of a controlled substance and possession of stolen property. Bond has not been set.
Bordman said he was not able to provide any further details about the case.
Saturday's shooting was the third firearms-related incident near the Taste Lounge, Bar and Grill since October. On Dec. 9, a Lawrence man was arrested for firing a weapon from a vehicle near the establishment. Two Leavenworth men were arrested for a shooting incident that occurred at the same location on Oct. 9.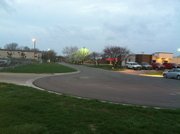 800 block of W. 24th Street
Copyright 2018 The Lawrence Journal-World. All rights reserved. This material may not be published, broadcast, rewritten or redistributed. We strive to uphold our values for every story published.