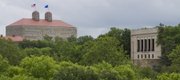 Subscribe to the email edition of Heard on the Hill and we'll deliver you the latest KU news and notes every weekday at noon.
Your daily dose of news, notes and links from around Kansas University.
• Here's a little bit of expansion and further context on a quote I spotted in a University Daily Kansan article about student fees and rights and the like.
The article references university officials asking for permission to enter student rooms in student housing if they thought a rule was being violated. Now, residents can prevent staff from entering, except in emergency cases.
"We were not willing to give that concession to the university," Aaron Harris, the rights committee chairman, told the Kansan. "That has been three years in a row we have not given that concession."
I've been around now for more than three years, so I know a bit about the history here. Here's an article outlining the proposal when it was first generated.
At the time, KU officials were concerned about the lag time associated with getting a search warrant. By the time a warrant was issued, the violation had often stopped.
Looks like that still might be going on.
• That university down the road to the west that likes to wear purple got some good news this week (and not just in the form of an NCAA basketball victory over Southern Miss).
Kirk Schulz, the university's president, has said many times recently, including in a visit with the Journal-World not too long ago, that he's interested in attracting more members of the National Academies to Kansas State.
They got their first one this week. Jim E. Riviere and Nancy Monteiro-Riviere are joining the faculty in August. Jim, an elected member of the Institute of Medicine of the National Academies, will be the McDonald Chair of Veterinary Medicine, and Nancy will be a Regents Distinguished Research Scholar. Both will serve in the department of anatomy and physiology in the College of Veterinary Medicine.
KU is looking to hire some "super-professors" of this caliber, and has asked the state to provide funds.
With that in mind, I'm curious about the funding package required to get these two hotshot profs to K-State.
I've got a request in, and I'll let you know what I find out.
• A lecture series scheduled for this spring is designed around last year's Arab Spring. Three lectures are set, all of which are free and open to the public.
James Gelvin, professor of history at UCLA, will deliver "The Arab Uprisings at the Intersection of the National and Transnational," at 7:30 p.m. March 26 at The Commons in Spooner Hall.
Jessica Winegar, assistant professor of anthropology at Northwestern University, will give "Creativity and Revolution: Egypt at a Crossroads," at 5:30 p.m. April 4 at the Spencer Museum of Art Auditorium.
And, finally, Andy Carvin, senior strategist at the social media desk at NPR, will be interviewed about the use of social media in the Arab Spring at 7:30 p.m. April 11 at the Dole Institute of Politics.
• I don't have much to contribute to the discussion about the Arab Spring, but I hope you'll send me a tip for Heard on the Hill to ahyland@ljworld.com anyway.
Copyright 2018 The Lawrence Journal-World. All rights reserved. This material may not be published, broadcast, rewritten or redistributed. We strive to uphold our values for every story published.