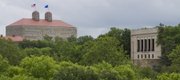 Subscribe to the email edition of Heard on the Hill and we'll deliver you the latest KU news and notes every weekday at noon.
Your daily dose of news, notes and links from around Kansas University.
• Boy, there sure are a ton of ways you can have a competition among the 68 teams in the men's NCAA basketball tournament.
Everyone, apparently, loves a good bracket and a good competition. So people all over the place have been having competitions among teams in the tournament pool.
KU won this one, which measured teams' "Social Media Power Ranking."
This was, admittedly, an inexact science. Here's how they came up with the rankings: the number of Facebook fans for each college basketball team plus the number of Twitter followers for each college basketball Twitter handle, all divided by the number of students attending the university. At least, divided by what Wikipedia says the number of students attending the university is.
Colleague Christine Metz pointed me to the nerdybracket.com site, which has a whole host of crazy brackets. (Florida wins the closest-to-the-equator bracket!)
Christine, a proud Lehigh graduate, was eager to point out that her university's $57,200 median starting salary was good enough to make the Mountain Hawks national champs. (KU didn't make it out of the first round in that one, by the way).
I told her as long as Lehigh beats Duke, it's all good.
• ABC News picked up on some KU research on the brown recluse spider that we wrote about last May.
Erin Saupe, a KU graduate student, did her master's thesis on the brown recluse spider and how climate change may mean the spider will move northward to states like Wisconsin, Michigan, Pennsylvania and New York.
And after all that, she got to be featured on a national news site, too. Although she wasn't as vociferous as some of the academics quoted, who resorted to mild curse words to describe the media's coverage of spider bites.
• College Magazine has honored KU's School of Journalism as one of the (unranked) top 10 in the country, according to this online list.
The magazine said it considered "admittance criteria, distinguished faculty, ranked campus media outlets, available technology and internship opportunities" when creating its list.
• I'll stop writing about silly brackets soon, I promise. It'll help if you send me good tips to ahyland@ljworld.com.
Copyright 2018 The Lawrence Journal-World. All rights reserved. This material may not be published, broadcast, rewritten or redistributed. We strive to uphold our values for every story published.