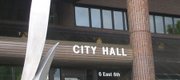 Subscribe to the email edition of Town Talk and we'll deliver you the latest city news and notes every weekday at noon.
News and notes from around town:
• Just how many new cars are you people buying? Evidently somebody is buying a lot because the amount of new investment by car dealers continues to grow.
According to plans filed at City Hall, the Kia dealership at 1225 E. 23rd St. will be the next Lawrence auto company to undertake a major construction and expansion project.
Lawrence-based architect Paul Werner has filed plans to more than triple the size of Shawnee Mission Kia of Lawrence's showroom and waiting area. The project will involved tearing down the existing 2,000-square-foot office space and replacing it with a modern 6,400-square-foot showroom.
The Kia plans are just the latest in a long line of dealership upgrades in Lawrence. Laird Noller Hyundai and Crown Volkswagen both have showroom construction projects underway, and the Briggs Auto Group has plans to build two new major showrooms in the Lawrence Auto Plaza in South Lawrence. Briggs plans to build a new Nissan and a new Chrysler/Dodge/Ram/Jeep dealership. (That building is going to have to be huge just to fit the sign on it.) Briggs already has built a new Subaru showroom, and his latest plans include making a major splash by adding a 75-foot-tall wind turbine to the Auto Plaza area.
What I've heard from dealers around town is that car manufacturers are insisting upon dealership upgrades. As one told me, the tone from the manufacturers has been that if you want to keep a dealership, you'll do these things. The good news, however, is that some auto manufacturers are kicking in dollars to help with the local upgrades.
• Maybe the reason the car business is booming is because everybody's got a job now. Well, that's not exactly what Tuesday's state labor report showed, but it did provide some relatively positive numbers for Lawrence — and one puzzler.
First the positive news: Lawrence and Douglas County's unemployment rate for January checked in at 5.6 percent. That's a significant improvement from the 6.7 percent rate recorded in January 2011. Lawrence's unemployment rate is better than the statewide rate of 6.4 percent, and is better than most other metro areas in the state. Topeka had a rate of 7.0 percent; Wichita 7.6 percent; and Kansas City 6.6 percent. Manhattan checked in at 5.5 percent.
The news for Lawrence and Douglas County gets even better if you look at how many jobs are actually located inside Douglas County. Remember, the unemployment rate figures how many Douglas County residents have a job anywhere. In other words, if you live in Douglas County but commute to Johnson County for work, your job shows up in Douglas County's totals for the purpose of calculating an unemployment rate. But the state report also includes another section that estimates how many jobs are actually in a county. That's the number local economic development leaders are really trying to grow, and this latest report shows some success.
The number of estimated jobs in Douglas County grew by 1,000 from January 2011 to January 2012 to a total of 49,700. That's a growth rate of 2.0 percent. Douglas County's growth rate checked in well above the statewide average and above every metro area in the state, except Kansas City. Specifically, the statewide average was growth of 0.9 percent; Manhattan lost jobs at a 0.7 percent rate; Topeka lost jobs at a 1.8 percent rate; Wichita lost jobs at a 0.1 percent rate; and Kansas City grew at a 2.2 percent rate.
But now the puzzler: Lawrence is bucking a statewide trend when it comes to how it is adding those job. In short, Douglas County is adding quite a few government jobs, while everybody else is losing them. The Labor Department estimates Kansas lost 10,000 government jobs from January 2011 to January 2012. Every metro area in the state also lost government jobs for the year, except Lawrence. In fact, the category of government jobs — which includes everything from local governments to KU employees — was by far the biggest contributor to job gains in the county for the year.
According to the Labor Department estimates, the county added 900 new government jobs from January 2011 to January 2012, bringing the total to 15,800. That's a growth rate of 6.0 percent for the year. In contrast, government jobs statewide fell by 3.8 percent.
Another way to look at it is, government job growth accounted for all but 100 of the new jobs added in Douglas County in the past year, according to the Labor Department estimates. That won't be the type of statistic that local economic development leaders tout.
Here's a look at some other numbers from the state's jobs report:
— From a percentage standpoint, the professional and business services job category grew the fastest in Douglas County over the one-year period. It added 300 jobs for a growth rate of 6.9 percent. But before you get too excited, that number failed to keep up with the rest of the state. Statewide, the business and professional jobs category grew by 8.4 percent.
— One area — besides government — where Douglas County outperformed the state was the education and health services category, which includes everything from nurses to school bus drivers. That category also added 300 jobs, for a growth rate of 5.4 percent. That was far better than the statewide average of 0.3 percent.
— There were 3,444 Douglas County residents unemployed in January 2012. That's down from 4,110 in January 2011. During that same time period, the total labor force in Douglas County also has grown from 61,256 in January 2011 to 61,859 in January 2012.
Copyright 2017 The Lawrence Journal-World. All rights reserved. This material may not be published, broadcast, rewritten or redistributed. We strive to uphold our values for every story published.