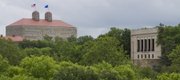 Subscribe to the email edition of Heard on the Hill and we'll deliver you the latest KU news and notes every weekday at noon.
Your daily dose of news, notes and links from around Kansas University.
• Thanks to several people who alerted me to the death of F. Sherwood Rowland, a Nobel laureate who helped discover the negative effects some chemicals have on the atmosphere.
Rowland was a professor of chemistry at KU from 1956 to 1964. He left KU to become the first chairman of chemistry at the University of California, Irvine, where he did most of the work for which he would become known.
He won the Nobel Prize in chemistry in 1995 for discovering that chemicals known as chlorofluorocarbons, commonly found in several household products, were harmful to the earth's ozone layer.
Rowland, who was 84, died of complications from Parkinson's disease.
• I noticed a job posting for a new director of study abroad at KU, so I checked with Susan Gronbeck-Tedesco, associate vice provost for international programs, and she told me there are a few restructuring changes coming to the office.
Yes, she said, KU is conducting a national search for a new study abroad director.
In the international programs office, Hodgie Bricke, who's an assistant vice provost, will be retiring at the end of the fiscal year.
With that retirement, Sue Lorenz, the current director of study abroad, will move to the international programs office to fill a new position that will assist students and faculty in obtaining Fulbright fellowships and scholarships.
Lorenz, astute university observers may recall, served as the associate director of the University Honors Program before moving to the Office of Study Abroad.
She will remain as director until a new successor is identified, which could happen by the early summer.
Bricke's position, Gronbeck-Tedesco told me, won't be filled, at least for now.
• The University Daily Kansan reports that students (and everyone else on campus, too) can expect to see those lovely tables this week filled with student election volunteers and literature.
Student elections are set for April 11 and 12.
The KUnited student coalition has won a number of successive elections.
Hannah Bolton, of St. Libory, Neb., is their candidate for student body president this year. Brandon Woodard, a junior from Topeka, is running for vice president.
Apparently, the duo is well-liked enough that the opposing coalition, Renew KU, isn't even putting up a set of candidates to oppose them.
That doesn't mean we can anoint them as KU's next fearless student leaders quite yet, however. The Occupy KU group is in the process of forming a coalition to run against them, Brian Sultana, an Occupy KU representative, told me on Monday.
Gus Bova, a nontraditional freshman from Lawrence, is running for president, and Claire Kerwin, a senior from St. Louis, is competing for vice-president.
So that should be fun to watch.
• I've got Long Beach State in my Elite Eight. Let me know how stupid I am (and send a tip for Heard on the Hill while you're at it) at ahyland@ljworld.com.
Copyright 2018 The Lawrence Journal-World. All rights reserved. This material may not be published, broadcast, rewritten or redistributed. We strive to uphold our values for every story published.