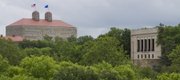 Subscribe to the email edition of Heard on the Hill and we'll deliver you the latest KU news and notes every weekday at noon.
Your daily dose of news, notes and links from around Kansas University.
• The dean of KU's School of Engineering participated in one of those meet-and-greet sessions at Louisiana State University on Friday. The dean, Stuart Bell, is interviewing for the provost's position there.
Here's a wrap-up of that visit.
I've sat through a number of these sessions while serving as a reporter here, for provost candidates, dean candidates and the like. They mostly sound very similar to the stuff Bell reportedly talked about.
"We need to bolster research," "put students first," etc. Bell did add that he wanted to focus on enhancing study abroad, diversity and "international engagement."
But, at any rate, I think it's clear these sorts of positions aren't won or lost at the public vetting sessions. Bell is competing against three others, including the arts and sciences dean from the University of Missouri.
LSU hopes to make a decision on the provost by the end of the month.
• With the NCAA Tournament basketball brackets out, we'll have just one more shot at a final Kansas-Missouri basketball game before the Tigers leave for the Southeastern Conference next year.
KU came up short in the Big 12 tournament over the weekend.
Missouri folks continue to talk a big game.
Football coach Gary Pinkel said he thinks the series will begin eventually.
"But you all know that's going to happen," he told 610 Sports, (but I read it in the Columbia Tribune). "Of course it's going to happen. We're going to make too much money doing it, first of all. And all the fans want it to happen."
The Tigers also got a little riled up at KU coach Bill Self's comments pointing out how KU had more alumni in the Kansas City area than Kansas State and Missouri combined.
MU senior Kim English was quick to point out that Kansas City was "our city" in post-game interviews, and some KU billboards in KC that say "'This is Kansas' (in bold letters) — City" also got the attention of the MU players, apparently.
• As Rick Santorum carried the day in the Republican caucuses here on Saturday, it was no surprise to KU folks.
Bill Lacy, the director of the Dole Institute of Politics and a veteran of a few Republican campaigns in his own right, was quoted in the New York Times in an article touting Santorum's successes in the state.
"The state is pretty much tailor-made for his kind of candidacy," Lacy told the newspaper before the caucuses were held. "He will get his people out. It really means a lot to him. It really doesn't mean that much to Governor Romney."
• Heard on the Hill can't run for president (last time I checked the Constitution, being human was requisite for the post), but even if it could, we'd still need you to submit your tips to me at ahyland@ljworld.com.
Copyright 2018 The Lawrence Journal-World. All rights reserved. This material may not be published, broadcast, rewritten or redistributed. We strive to uphold our values for every story published.