The maternity ward at Lawrence Memorial Hospital was teeming with relatives and friends from the same family last week.
Not one but two members of the Cobb family gave birth in the unit, with the same obstetrician delivering both babies.
Sisters Courtney and Jessalyn Cobb gave birth within one day of each other: Jessalyn had a daughter, Laikyn Dondlinger, on March 7, and Courtney gave birth to a son, Maxson Poeverlein, the very next day.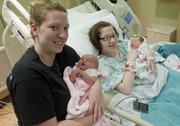 The sisters, who were already dazed by the fact that they were having babies to begin with, sort of shrugged off the unusual nature of the event. After all, they had just spent nine months being pregnant together, naturally they would give birth around the same time.
But the nurses told the sisters that nothing like this had ever happened before at LMH. After seeing expressions of surprise stretch across the faces of those involved in the labor, the sisters began to acknowledge just how unlikely the phenomenon was.
"As soon as I was induced, (my sister Courtney) came in … and said that she was going to be induced the next day," said Jessalyn. "(Later) I was still trying to deal with a new baby and my sister was right down the hall getting ready to have a baby."
After Courtney gave birth, Jessalyn whisked Laikyn away from the neonatal unit and hustled down the hall to meet her nephew, Maxson.
Nine months ago, Jessalyn was the first learn she was pregnant. Courtney found out about her own pregnancy a week later. Each watched in awe as the changes that occurred to her own body happened to her sister at relatively the same pace.
"It was really weird but also really cool at the same time," said Courtney. "It was nice to have someone who was going through the same thing. Being pregnant together brought us even more closer than we already were."
Their mother, Chrissy Immenschuh, jokes that the sisters must have planned the event.
"I thought they did it on purpose to drive me crazy," Immenschuh said. "I teased them, but you know, everything happens for a reason."
The babies were near the same weight, with Laikyn at 7 pounds 12 ounces, and Maxson at 7 pounds 4 ounces.
"This has all just been a really crazy ride," says Jessalyn. "It's going to be like they're brother and sister, it's not even going to be like they're cousins. Watching my nephew and my daughter grow up together is probably going to be the best experience I could have dreamed up."
Copyright 2018 The Lawrence Journal-World. All rights reserved. This material may not be published, broadcast, rewritten or redistributed. We strive to uphold our values for every story published.