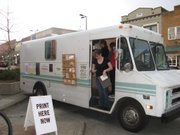 Kyle Durrie likes to think she's giving people a little bit of new education in a very old subject, one handmade card at a time.
Since June, Durrie, a resident of Portland, Ore., has been touring the country in her "type truck," a truly moveable moveable-type studio made from a gutted 1982 Chevy step van. So far she has reached at least 123 cities.
Printing like she does as an artist has been around for centuries, she says, but it's still relevant — and, almost more significantly, "working with your hands in a nondigital format, it's increasingly rare, and it's important," she said.
Parked in front of Wonder Fair, 803 Mass., on Wednesday, Durrie invited folks into the truck to experience firsthand the process of printmaking. She set up one of her two presses — the other is at least 100 years old — with "Ad astra per aspera, Lawrence, Kansas" from woodcut letters and had members of the crowd who participated roll gold ink across them, lay a card on top and roll the press over to create a print.
"I think of the trip as an education opportunity for the community," she said. "It's at least a basic education in giving them a feel — a small, firsthand experience."
She travels largely thanks to fundraising from the creative-donations website Kickstarter.com, and finds galleries, universities and print shops to park near.
Meredith Moore, co-owner of Wonder Fair, said Durrie's experiment in, as she writes on her blog, "adventures in printing," should be an inspiration to other artists.
"It's good to see someone do something strange," Moore said, "and be happy and successful in doing it."
She also agreed with Durrie's belief that a centuries-old technique can be a part of a new education, and a modern life.
"DIY culture is really on the rise, especially for young people — we read books on small, illuminated devices but to do something tangible like printmaking is really cool."
Durrie and the moveable type truck will be at the Spencer Museum of Art, on Kansas University's campus, from 4:30 to 7:30 p.m. today. Durrie takes donations and sells handmade prints.
Copyright 2018 The Lawrence Journal-World. All rights reserved. This material may not be published, broadcast, rewritten or redistributed. We strive to uphold our values for every story published.