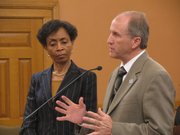 Topeka — Kansas University Chancellor Bernadette Gray-Little said Wednesday that a proposal by House Speaker Mike O'Neal, R-Hutchinson, to stop state funding of remedial classes at state universities would probably affect a couple of hundred students at KU.
Gray-Little said KU offers one remedial class, and it's in math.
"In general, students who are enrolled in that course don't have a strong academic background," she said.
Her comment came in response to a question during testimony before the Senate Ways and Means higher education budget subcommittee.
O'Neal has proposed legislation that would prohibit the use of tax dollars for remedial courses at state universities and cut in half the allowed number of students who are admitted but don't meet minimum admission standards.
O'Neal has said that students who require remedial course or fall below minimum admission standards would be better served going to a community college than risk failing at a regents school.
In other testimony to the committee, Gray-Little said KU wants to increase the first-to-second year retention rate of students from 79 percent to 90 percent.
She said she wants at least 70 percent of freshman to have graduated within six years. That rate is now 61 percent.
Gray-Little and KU Engineering Dean Stuart Bell told legislators that the recent approval of funds from the Legislature and Gov. Sam Brownback for engineering was already payoff.
KU's engineering department saw a 43 percent increase in admissions, they said.
"Young people are saying there is a signal coming from the state," Bell said.
Last year, Brownback signed into law a measure that allows KU, Kansas State and Wichita State each to receive $3.5 million annually from state gambling revenues. The funds, which must be matched by the schools, will be used to beef up engineering programs.
Gray-Little said 106 employers came to KU recently to recruit engineers, which was up from 64 employers last year.
Gray-Little also voiced support for several other recommendations from Brownback. Those include $3 million in additional funding to recruit world-class professors; a $1.8 million increase for additional student loans at the KU Medical Center; and continuance of the $5 million annual appropriation for the KU Cancer Center.
Copyright 2018 The Lawrence Journal-World. All rights reserved. This material may not be published, broadcast, rewritten or redistributed. We strive to uphold our values for every story published.