PERRY — When Georgie Stebbins went to her mailbox Monday, she noticed a scrap of paper just a few feet away.
She snatched it up because, in her words, she can be a nag about the appearance of the roadside in front her home just north of Perry.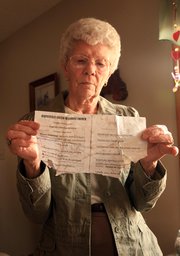 But this wasn't an ordinary piece of trash.
It was folded, dirty and brittle like it had been wet, but suddenly she noticed the words "Harveyville United Methodist Church" typed across the top.
"That's when my heart started pounding," said Stebbins, 83.
It was part of a bulletin from the church that was destroyed a week ago, Feb. 28, in the tornado that severely damaged the Wabaunsee County town of 200 people and killed a man.
"There's probably things like this that people don't pick up," she said in her soft voice.
It looked like it had been folded and in someone's pocket, so she'll probably never know how it ended up about 40 miles to the northeast in Stebbins' driveway.
The bottom part of the bulletin was torn off, so there's no date on it. There's information about a church event on March 1, just two days after the EF-2 tornado hit.
The National Weather Service doesn't keep track of reports of debris, meteorologist Matt Wolters said, but he was not surprised that the paper could have traveled that far. People in Lawrence found items in their yards from the May 21, 2011, Reading tornado in Lyon County, which was about 70 miles away.
"When you start lifting up debris like pieces of paper, it doesn't take much to keep those in the air for an extended amount of time," Wolters said. "It's always an interesting thing to hear about that stuff. It gives you a little bit of a sense of the magnitude of what actually happened in Harveyville."
Stebbins hopes people become aware of how they store documents with sensitive information, such as Social Security numbers, to prevent them from blowing away in a bad storm.
Her discovery also hit home in another way. One day she plans to call the Harveyville pastor, Dennis Irwin, to tell him about it. She also plans to send the church a small donation.
"It made me feel like I had more of a connection," Stebbins said, "because I go to the Perry United Methodist Church."
Copyright 2018 The Lawrence Journal-World. All rights reserved. This material may not be published, broadcast, rewritten or redistributed. We strive to uphold our values for every story published.