Topeka — A group of veteran legislators on Wednesday crossed political and ideological lines to urge Gov. Sam Brownback to slow down his push to privatize Medicaid.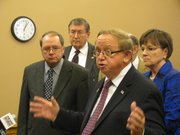 But the Brownback administration rejected the plea. "It would be a costly mistake to postpone making these critical improvements to our system," said Lt. Gov. Jeff Colyer.
State Sen. Dick Kelsey, R-Goddard, disagreed. "Medicaid is a massive and complex issue. By rushing through the implementation process, the livelihood of more than 380,000 Kansans who rely on Medicaid services will be threatened," Kelsey said.
Kelsey was joined by other Republicans and Democrats in support of a resolution to delay implementation of the Medicaid overhaul from January to July 1, 2013.
The six-month delay will give legislators another legislative session to analyze the plan to ensure that providers meet the needs of Medicaid recipients "without causing interruptions or delays in services," Kelsey said.
Brownback, a Republican, has proposed converting the $2.8 billion federally and state funded program to a managed care system handled by private insurance companies. Brownback has said the new system, which will be called KanCare, will have incentives to reduce costs and improve the health of those treated.
The bipartisan group of legislators said other states, in turning over Medicaid to managed care companies, have experienced major problems, such as providing late payments to health care providers and conflicts over what services and medications are covered. They also said more alarms were raised in Kansas when Blue Cross Blue Shield of Kansas, the state's largest insurance company, declined to bid on the KanCare contract. Blue Cross said the contract "would have required us to dramatically change our business model to serve new populations in different settings in less than a year."
Twenty-two of the Senate's 40 members have signed on to the resolution seeking a delay, while about 40, or less than one-third of the 125-member House have signed on.
State Rep. Jerry Henry, D-Cummings, said more House members will sign up in the coming days.
Henry said he was concerned how the proposed system would impact rural Kansas, nursing homes, and pharmacies. "There are a lot of issues that need to be addressed before this can happen," he said.
Another major issue is including contracts for people with developmental disabilities. Advocates say the long-term supports needed for people with developmental disabilities don't fit with a private program to manage healthcare costs. And they said the governor's plan doesn't address the nearly 5,000 people with developmental disabilities on a waiting list to receive assistance in their homes.
The resolution also states that a six-month delay would give policymakers time to determine how any U.S. Supreme Court ruling on the Patient Protection and Affordable Health Care Act would impact the implementation of KanCare.
But Colyer, Brownback's point man on Medicaid, said the administration is drawing from the best examples from other states and will be able to avoid problems experienced elsewhere.
"We have undertaken this reform slowly but surely," Colyer said. "Delaying KanCare will only guarantee continued cost increases, put providers at risk of rate cuts, and threaten the quality of care being provided to vulnerable Kansans. The status quo is not serving us well, and delay will not improve the health of anyone," he added.
Colyer, who is a physician, said he will soon announce a KanCare advisory panel that will include representatives from mental health, substance abuse, disabilities, doctors, hospitals, pharmacists, seniors, tribal organizations, family members, legislators and consumers.
Copyright 2018 The Lawrence Journal-World. All rights reserved. This material may not be published, broadcast, rewritten or redistributed. We strive to uphold our values for every story published.