Topeka — The city of Lawrence and a neighborhood advocate on Tuesday urged legislators to help the city enforce its ordinance that aims to restrict the number of college students who can live in a rent house.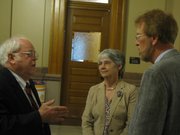 Related document

Senate Bill 400 ( .PDF )
"Quiet family homes have become weekend party palaces," Arly Allen with the Centennial Neighborhood Association told the Senate Federal and State Affairs Committee.
Allen said absentee landlords are packing in KU students into homes at $500 per room in violation of the city ordinance that caps at three the number of unrelated people who can live in a single-family dwelling.
The inability to enforce the city ordinance has chased away families, reduced the number of children in the area and led to elementary school closures, he said.
"Our neighborhoods deteriorate and the schools are suffering and all the families are suffering," he said. "Our neighborhoods are being converted into businesses," he said adding that the house next door to him recently had five students living there.
State Sen. Marci Francisco, D-Lawrence, introduced Senate Bill 400 on behalf of the city of Lawrence. The bill would allow cities to require landlords to provide lists of their tenants if a city had adopted an ordinance requiring owners of single family dwellings to obtain residential rental licensing permits prior to renting.
Lawrence has adopted such an ordinance, but almost immediately after it did so in 2000, the Legislature passed a bill that prohibited it from enforcing the requirement to provide a list of names of any tenants of a landlord.
SB 400 would provide an exception to that law. City Attorney Toni Wheeler said the city would also support a blanket repeal of the statute.
Wheeler said currently it is extremely difficult to enforce the ordinance. If the city receives a complaint that there are more than three unrelated people living in a rented single-family house, the city tries to contact the owner. If the owner doesn't cooperate, she said, the city must have inspectors monitor activity at the dwelling to determine if there is a violation.
"If we were able to get a list of tenants, it would save time," she said.
But the Kansas Association of Realtors and Associated Landlords of Kansas opposed the bill.
Luke Bell, vice president of governmental affairs of the realtors group, said cities have zoning, safety and health ordinances that they can enforce if there is a problem.
He said if the Legislature allowed unnecessary restrictions on private property that could increase rental costs.
Ed Jaskinia, president of the Associated Landlords of Kansas, said the Lawrence ordinance violated the privacy rights of tenants and landlords.
Several members of the committee seemed hesitant to support the bill.
State Sen. David Haley, D-Kansas City, said single-family homes can become party houses regardless of the number of students living in the house.
"You have my genuine sympathy," he told Allen, but added, "I don't know that having a list of occupants is really going to get at the problem."
Chairman Pete Brungardt, R-Salina, said he would let the bill "simmer" for a while so that committee members could hear from others about the proposal.
Copyright 2018 The Lawrence Journal-World. All rights reserved. This material may not be published, broadcast, rewritten or redistributed. We strive to uphold our values for every story published.