A $1.6 million gift from Ross and Christine Hartley, of Jackson Hole, Wyo., brings Baker University close to its $10.3 million goal to fund a renovation and expansion of Mulvane Hall on its Baldwin City campus.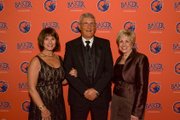 The new 9,000-square-foot addition east of the existing Mulvane Hall will be renamed Ross and Christine Hartley Hall.
Ross Hartley, a Baker alumnus, co-founded NIC Inc., an electronic government services company.
"I spent a lot of hours in Mulvane," taking math and science courses, Ross Hartley said, adding that the couple enjoy being able supporting higher education in Kansas.
He and his wife are natives of Baxter Springs, and have previously donated $1 million to Baker to a library renovation project and founded the first endowed professorship at the Kansas University School of Nursing.
"It's another example of when you are approached or asked for support, it's nice to be able to respond," said Christine Hartley, a KU alumna.
Baker University had raised about 80 percent of the total $10.3 million to fund the Mulvane transformation project before a ground-breaking ceremony for the project in October.
Lyn Lakin, Baker's vice president of university advancement, said the university appreciated the Hartleys' gift, which helped increase the visibility of the Mulvane Hall project, which she said was "the right project at the right time" for Baker.
"(This donation) puts us very, very close to our goal," Lakin said. "And we'll be ramping up the fundraising in the next few months."
The gift is the second seven-figure donation in support of the Mulvane project, joining a $3.5 million anonymous gift that was the largest in the university's history. At the request of the anonymous donors, the entire complex, including Mulvane Hall and the new addition, will be renamed the Ivan Boyd Center for Collaborative Science Education.
Copyright 2018 The Lawrence Journal-World. All rights reserved. This material may not be published, broadcast, rewritten or redistributed. We strive to uphold our values for every story published.