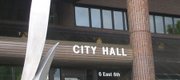 Subscribe to the email edition of Town Talk and we'll deliver you the latest city news and notes every weekday at noon.
News and notes from around town:
• There's always been a certain amount of whining involved with my golf game. Like, why did they have to put that bunker there? Why did they have to put that tree there? Why did they have to put that house there? Why did that freeway traffic have to run over my golf ball? You know, typical stuff like that.
But now a local golf course and a winery are trying to bring new definition to Wine and Nine. The owners of BlueJacket Crossing Winery in rural Eudora have filed plans to open a tasting room at Twin Oaks Golf Course, which is just east of Lawrence on Kansas Highway 10.
Winery owner Pep Selvan-Solberg said the plan is to open a modest tasting room in the clubhouse area of the golf course. Folks would be able to sample the wines, and buy bottles to take home. But the winery wouldn't be selling wine by the glass or selling bottles for consumption on the golf course property.
"We're not looking to turn it into a bar instead of a farm winery," said Selvan-Solberg.
BlueJacket Crossing has its vineyard and winery about 1.5 miles south and east of the golf course. But the winery is on a rural piece of property off a gravel road, which means you're not going to just stumble upon it. The golf course location will allow the winery to have a sign on K-10. Current plans call for the tasting room at the golf course to be open only on Fridays, Saturdays and Sundays. He hopes to have the tasting room open by early summer.
But the winery must first win approval from the Douglas County Commission to open the tasting room at the site. Selvan-Solberg has filed for a conditional use permit. He's hopeful commissioners won't see many problems with the idea, in part, because another winery and tasting room already exists near the location.
The golf course is on the south side of K-10 where it intersects with County Road 1057. On the north side of K-10 at the 1057 interchange is Davenport Orchards and Winery. So, the interchange could eventually become known as the heart of Douglas County wine country. It also could become known as the spot where K-10 traffic runs over my golf ball.
• I'm running a bit behind on keeping you up to date on Lawrence home sales. But I now have totals for January home sales, and they aren't what folks in the real estate industry were hoping for.
If you remember, Lawrence home sales in 2011 fell by 15 percent to post one of their worst years on record. The second half of 2011 was particularly dismal. Real estate agents, though, were hopeful that unseasonably warm weather would produce more buying activity in January.
The numbers, however, show otherwise. January home sales were down 28 percent compared to January 2011. If you are counting, January marked the fifth straight month that sales totals were down compared to the same month a year earlier.
But, on a positive note, January 2012 sales totals were up about 20 percent from January 2010 totals. I'm also hearing from several Realtors that activity does seem to be picking up. The Lawrence Board of Realtors compiled some statistics that show the number of homes placed under contract from the beginning of January to the end of February is up about 4 percent from the same period a year ago. So, perhaps the local sales numbers are set to improve.
As it stands now, though, Lawrence is lagging behind the national trend. The National Association of Realtors reported sales of existing homes were up 4.3 percent in January. That's the third time in four months that homes sales have increased on the national level.
• Here's a new bit of real estate data I'm throwing at you. Each quarter, the Federal Housing Finance Agency issues a report that gives a good indication of whether home values are shrinking or growing in metro areas across the country. The agency has access to home prices for all homes with a mortgage backed by Fannie Mae or Freddie Mac, so that is a lot.
For Lawrence, the numbers show that 2011 indeed was a year of declining home values — but maybe not as much as you would expect. It also shows that the fourth quarter of the year showed signs of prices rebounding. The report found Lawrence home values fell by 0.76 percent in 2011. The Lawrence metro area actually ranked 59th in the country — out of 306 total — in terms of holding its value. In other words, home values in Lawrence declined at a slower rate than in most other metro areas.
For the October through December period, the report found home values actually started to improve. The report found home values increased by 1.25 percent for the quarter.
Lawrence also outperformed the state as a whole when it comes to maintaining home values. Statewide, Kansas home values declined by 3.22 percent for the year. The statewide numbers are interesting because they show that Kansas did not take nearly as big a hit from the bursting of the real estate bubble as most other places did, but it also shows the rebound hasn't been as sharp. For the year, Kansas home values declined 3.22 percent. That's compared to a national decline of 2.43 percent. For the five-year period, Kansas home values declined 5.01 percent. That is far better than the national average of a 19 percent decline for the same time period. But the report also found the rebound hasn't yet begun in Kansas. Home values for the most recent quarter fell 1.39 percent, compared to just a 0.1 percent decline nationally.
One of the other neat things about the report (well, neat if you like numbers) is it allows you to compare how Lawrence's home values are holding up compared to other area communities. Here's a look at those numbers:
— Lawrence: down 0.76% for year; +1.25% for quarter; down 3.22% for 5 year;
— Kansas City, Mo./Kan.: down 2.76% for year; +0.46% for quarter; down 8.21% for 5 year;
— Topeka: down 0.67% for year; down 0.47% for quarter; +1.29% for 5 year;
— Wichita: down 0.76% for year; +0.49% for quarter; +5.795 for 5 year.
— Manhattan: down 1.8% for year; down 0.62% for 5-year. (Quarterly statistics were not available)
• If any of this has made you want to buy a house in Lawrence, well, there is a Realtor smiling somewhere. If you still need convincing, well, lucky you. The Lawrence Board of Realtors is hosting several meetings in the next month about "Preserving the American Dream," which I think means they're also going to talk about all the details involved with buying a house. All the meetings are at the Lawrence Public Library, 707 Vt. The times and dates are:
— 6:30 p.m. to 8 p.m. March 7
— 1:30 p.m. to 3 p.m. March 25
— 6:30 p.m. to 8 p.m. March 28
— 1:30 p.m. to 3 p.m. April 1
Copyright 2017 The Lawrence Journal-World. All rights reserved. This material may not be published, broadcast, rewritten or redistributed. We strive to uphold our values for every story published.