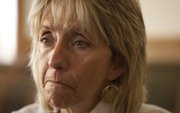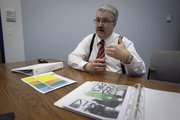 Related feature
A look at the number of meth lab incidents reported locally, statewide, and across the country. Statistics provided by the Kansas Bureau of Investigation.
The meth 'high'
It's called "chasing the dragon," as methamphetamine users take more of the drug to reach the first euphoric high achieved from swallowing, smoking, snorting or injecting the drug.
"It does something for people with this disease that it doesn't do for other people," said Stacey Hauck, a Crawford County addiction treatment provider and former meth addict. "An addict feels euphoria."
The drug increases dopamine release in the brain, which is the chemical "involved in reward, motivation, the experience of pleasure and motor function," according to the National Institute on Drug Abuse.
"The first time someone uses meth, this is it. This is what they've been looking for," said Hauck, helping to explain the addictive nature of the drug, which is made using the over-the-counter cold medication pseudoephedrine.
Those initial feelings, however, give way to the desperate search for more of the drug, Hauck said.
"Finding ways and means to get more, that's how the addict lives," Hauck said.
When an addict cannot get more, withdrawal symptoms set in, including paranoia and intense anxiety, which are coupled with the typical meth effects of malnourishment and a corrosion of the mouth and teeth, known as "meth mouth."
In some cases, someone withdrawing from meth usage must undergo what is known as "medical detoxification," which includes supervising the person closely and administering medication that eases the symptoms.
By the time a methamphetamine addict gets to Stacey Hauck, there isn't much left.
"We call it hitting bottom," said Hauck, clinical director of addiction services for the Community Mental Health Center of Crawford County. "There's nothing left, and no one left."
Reaching that low is usually the only way back.
"People have to lose everything," said Hauck, who helps oversee a 24-bed inpatient treatment center in Girard — the only one in southeast Kansas — as well as outpatient treatment in the county. The Girard facility is "always full," and the waiting list for those seeking help is about four weeks.
As much as anyone, Hauck has witnessed the progression of meth use, and growth, in the region over the past couple of decades.
She was around when meth was made in large labs and imported from Texas. Today, she sees the ease with which the drug can be made using the "one-pot" method that law enforcement reports seeing the last few years.
"It's so accessible," she said.
And she knows firsthand the desperate state of those addicted to the drug.
On June 4, Hauck will celebrate 24 years of sobriety from the drug that stripped her down to nothing.
"I know what they're talking about," she said.
When Hauck discusses treatment of meth addicts in southeast Kansas, the success stories such as hers are sprinkled among the challenges the treatment community faces battling the addictive drug.
In addition to the waiting list for the inpatient center, patients are guaranteed only 14 days of treatment and get 28 at max. That's a change from a decade ago, she said.
"Times are shorter and shorter and shorter," Hauck said. And the need is increasing.
Along with a recent increase in meth lab incidents in Kansas, treatment providers are beginning to see a rise in meth treatment admissions. Numbers for the state, which just include state-run facilities, peaked in 2005 and 2006 with 1,997 admissions each year. Those numbers dropped to 1,706 in 2010 but jumped again in 2011, with 1,971 reported to the Kansas Department of Social and Rehabilitation Services.
When someone has bottomed out and realized the need for such treatment, their life is a wreck; family ties have been cut and resources have been spent, Hauck said.
"Many times people end up homeless" even after treatment, Hauck said, detailing the struggles for recovering addicts in getting jobs, securing housing and staying out of the environment they came from.
"Everything you've got to change, is everything," she said.
'Cook meth, go to prison'
In a nondescript office building in Pittsburg, the largest city in Crawford County, which led the state in 2011 with 40 meth lab incidents, Steve Wilhoft, assistant attorney general for the Southeast Drug Enforcement Task Force, spends his days sending meth manufacturers to prison.
Middle-aged with thick-framed glasses and suspenders, he wouldn't pass as a hardliner to seasoned criminals. But ask around about Wilhoft, who prosecutes large drug cases in a six-county region in southeast Kansas, and people will tell you he's all business.
In the building's lobby, a law enforcement officer tells a story about Wilhoft. The officer was working a case and made an arrest. He approached Wilhoft for the first time and asked what he thought the plea bargain would be. Wilhoft was surprised. There wouldn't be a plea bargain in this case, or any others, the officer was told.
"If you cook meth, you go to prison," Wilhoft said. "There's no way around it."
Meth manufacturing is a level-one drug severity crime in Kansas, and without any prior convictions, Wilhoft says a conviction will net about seven years.
In Wilhoft's eyes, that's seven years that a meth producer, who is also often a user, will be free of the drug and unable to feed anyone else's addiction. It's the one thing he's able to do to limit the production of the drug in the region.
"For every meth cook we take off the streets, we're saving lives," said Wilhoft, who spent seven years as the county attorney in neighboring Labette County, where he saw the larger labs and now, one-pot labs. "We're plugging the hole in the dam to keep that tide from getting loose and hurting others."
Wilhoft keeps a couple of binders with pictures from the cases he's worked, which display the equipment drug makers use: iodine-stained tubing, two-liter jugs, empty pseudoephedrine packages, glass pipes in various shapes and sizes.
Another binder shows the devastating fires that result from one-pot meth labs gone wrong and homes in disarray.
In the last page of the binder, Wilhoft shows a photo from a meth lab seizure where authorities had to remove several children from the home.
The photo is a close-up of a loaded handgun, sitting on a table, surrounding by toys.
"This is the most powerful picture I've ever seen," he said.
Answers
Ask law enforcement in southeast Kansas what can be done to curb meth manufacturing and use, and the discussion starts with an insistence that pseudoephedrine become a prescription-only drug.
"What are we losing?" asked Parsons Deputy Police Chief Scott Gofourth, who helped enact a prescription-only policy in the city of Parsons in 2011.
While sales of pseudoephedrine, found in products such as Claritin, Mucinex and Sudafed, account for more than $600 million nationally, they account for less than $300,000 per year in sales in Kansas, according to a 2012 legislative report from the Kansas State Board of Pharmacy.
A law requiring a prescription for products containing pseudoephedrine was proposed during the 2011 Kansas legislative session but didn't make it out of committee. The bill was carried over to the most recent legislative session, but the bill didn't receive a hearing.
Drug companies oppose such laws, citing a loss in revenue, and some health care groups say the move will drive up the cost of health care, as patients will be required to fund the bill for another office visit.
Pharmacist reaction is mixed, said Mike Larkin, executive director of the Kansas Pharmacists Association. Resistance stems from concerns about limiting access for legitimate patient needs, such as allergy sufferers, as well as an increase in record-keeping.
But it's not about the money.
"It doesn't have anything to do with the lucrative nature if it," said Larkin, as actual pharmacies see little in terms of profits from pseudoephedrine-based products.
But any resistance to such a law baffles those on the ground, steeped in the battle against meth in southeast Kansas.
"They need to wake up," said Manish Dixit, a pediatrician in Parsons who sees meth-addicted parents and children with severe birth defects as a result of meth use. He advocates a nationwide prescription-only law for pseudoephedrine. For him, it's as simple as cutting off the source.
Loretta Severin, drug strategy coordinator for the Kansas Bureau of Investigation, estimates such a law is at least couple of years away in Kansas. But the state can look to Oregon, which along with Mississippi, is one of only two states in the country to pass such a law.
Oregon, which passed its law in 2006, reported 192 methamphetamine lab incidents in 2005. In 2011, Oregon reported nine.
Kansas and many other states do restrict access to pseudoephedrine, requiring medicines that contain it, such as Sudafed, to be kept behind pharmacy counters. Purchasers must show identification, and there is a limit to how much they can purchase at a time.
Meanwhile, police, treatment providers and others engaged in the battle against meth in southeast Kansas say the problem will get worse and spread across the state.
"I can't imagine that it won't," said Hauck, addiction treatment provider.
Hauck is concerned this little slice of Kansas is being forgotten.
What will it take to stem the tide of declining resources and ramp up policies designed to cut meth use?
"Come down here and take a look at it," Hauck said.
Copyright 2018 The Lawrence Journal-World. All rights reserved. This material may not be published, broadcast, rewritten or redistributed. We strive to uphold our values for every story published.