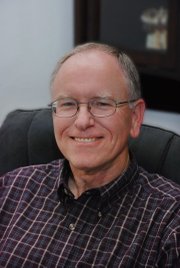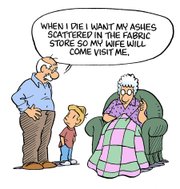 One of the fastest-growing comic strips in syndication is Brian Crane's Pickles, now in over 800 newspapers, including the Lawrence Journal-World.
The strip depicts Earl and Opal Pickles and follows them as they navigate their twilight years with humor and grace.
Crane started the strip 22 years ago while still an advertising executive.
"I would work at the ad agency all day, and then come home, grab a bite to eat with my wife and seven kids, and then go out to my studio in the garage and work on the comic strip until 11 or midnight," Crane says. "I don't know who had it worse: me or my wife. Probably her. I never could have done this without her support and encouragement."
His commitment has paid off, as Pickles is one of the most popular strips around today.
"Readers of every age love Pickles," says Dennis Anderson, managing editor of the Journal-World. "In the two comics surveys we've done in recent years, Pickles was in the same class as legendary comics such as Peanuts, Garfield and Blondie. In fact, some readers participating in the surveys added notes about Pickles, saying they would cancel their subscription if we discontinued the comic. We have no plans to do that."
Crane says he thinks people who read his strip and get to know the characters are reminded of themselves or people in their own families .
"The most frequent comment I get is, 'You must have a video camera hidden in our house!' I try to keep the humor fresh but not offensive."

Despite efforts to keep the situations light, depicting Earl and Opal as they grapple with modern life — technology and tweets, gadgets and Google, iPads and iPhones — Crane says that on rare occasions he has received a negative response.
"There have been a few who have thought I portray senior citizens in a negative light," he says. "Interestingly enough, these comments have never come from senior citizens themselves, but from younger people. I think most seniors have learned not to take themselves too seriously, and that laughter is the best way to deal with the foibles of growing older."
Clearly this is an attitude that Crane himself embraces as he explains the origin of Earl and Opal. While he originally modeled them after his in-laws, after 22 years he has noticed that Earl is becoming more and more like himself.
"If I had known that was going to happen, I would have made him a lot better-looking," he jokes.
The success of the strip is a dream come true for Crane, who grew up reading and enjoying Al Capp's Li'l Abner and Walt Kelly's Pogo.
"Later when Charles Schulz's Peanuts and Johnny Hart's B.C. came along, I became a big fan of them as well," he says.

Crane sees his lifelong infatuation with doodling and cartoons as an "incurable affliction."
"I don't recall a time in my life when I wasn't drawing cartoons, whether it was on the walls of my nursery, the margins of my school papers, the ads I designed as an ad agency art director, or in my Pickles comic strip," he says. "My mother used to tell a story of me drawing Mickey Mouse when I was just a toddler."

And even though he has been drawing the daily strip for 22 years, he says "there's no better feeling than knowing you may have brightened someone's day and put a smile on their face."
Crane has this advice for those who want to pursue their dreams: "Don't wait!"
"I waited until I was 40 years old to pursue my childhood dream. I wish now I hadn't waited so long. … Get yourself a big, old butterfly net and go get that bugger before it flies away."
Copyright 2018 The Lawrence Journal-World. All rights reserved. This material may not be published, broadcast, rewritten or redistributed. We strive to uphold our values for every story published.