Douglas County prosecutors have filed several charges and traffic infractions against a 35-year-old Lawrence man accused of leading police on a chase Thursday in a stolen vehicle and crashing it into a tree on Iowa Street.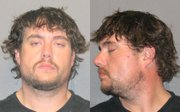 Billy Joe Johnson faces charges of fleeing or attempting to elude police, driving on a suspended license, two counts of theft, reckless driving, leaving the scene of an accident, failing to report an accident and several traffic infractions, according to court records.
Lawrence police said they briefly chased a stolen vehicle just after 5 p.m. Thursday after employees of a bank in the 900 block of Iowa reported suspicious activity near the car. Prosecutors allege Johnson, who had two passengers in the car, led police on a chase through a nearby residential area between Ninth and 15th streets, but police called off the chase because of the amount of rush-hour traffic.
Minutes later a resident in the 1200 block of Iowa Street reported a car struck a tree on his property. The three occupants had fled on foot, and police later arrested Johnson at a house in the 2500 block of Oxford Road and took the two passengers into custody. Police allege the car was stolen out of Jefferson County and had a license plate stolen from Lawrence.
Copyright 2018 The Lawrence Journal-World. All rights reserved. This material may not be published, broadcast, rewritten or redistributed. We strive to uphold our values for every story published.