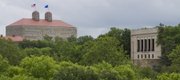 Subscribe to the email edition of Heard on the Hill and we'll deliver you the latest KU news and notes every weekday at noon.
Your daily dose of news, notes and links from around Kansas University.
• The KU Medical Center made Comedy Central's "Colbert Report" on Wednesday (you can see the video here), as mock-conservative host/comedian Stephen Colbert wagged his finger at KUMC's "spermicidal maniacs" who were developing a male birth control pill.
Joseph S. Tash, director of the Interdisciplinary Center for Male Contraceptive Research and Drug Development at KUMC, has been working on the issue since 2007.
Here's a blurb from the old-school Heard on the Hill blog (does anyone even remember that?) that talks a little more about the grant in 2007.
• Tonight marks KU's Student Union Activities' second Dancing with the Stars event where members of the KU community pair up with dancing partners and have a good old-fashioned dance-off.
KU dancers include: Kerry Benson, lecturer in the School of Journalism; Cody Charles, assistant director of the Sabatini Multicultural Center; Libby Johnson, student body president; Jay Lewis, KU Hillel executive director; Tim Schlosser, assistant athletic director; Alex Ross, co-founder of KU Dance Marathon; Emily Lamb, Center for Community Outreach director; Daymond Patterson, KU football player; Lauren Lacey, team leader for Jayhawk Motorsports; and Eileen Remley, the Big Event's director of internal affairs.
I'd think the Dance Marathon guy has a good shot (and is that really even fair?).
The whole thing is set for 7 p.m. tonight at the Kansas Union Ballroom.
The event is free for KU students and $5 for the general public, available at the SUA box office on the fourth floor of the Kansas Union.
• A writer and philosopher will discuss the usefulness of religion for atheists in a lecture that is part of the Hall Center for the Humanities' 2011-12 Humanities Lecture Series.
Alain de Botton (as a French minor, I can authoritatively say that's a great French name) is scheduled to speak at 7:30 p.m. March 14 in Woodruff Auditorium at the Kansas Union. Himself an atheist, he has written the book "Religion for Atheists," where he argues that religions can indeed teach the secular world a thing or two.
A more informal question and answer session with de Botton is scheduled for 10 a.m. March 15 in the Hall Center Conference Hall. There, he is scheduled to discuss Living Architecture, a nonprofit organization that asks top architects to build structures in the U.K. that can be rented for vacations at modest costs.
• I wasn't asked to participate in KU's Dancing With the Stars event (snubbed again!), but I hope that doesn't mean you'll be afraid to send me a tip at ahyland@ljworld.com.
Copyright 2018 The Lawrence Journal-World. All rights reserved. This material may not be published, broadcast, rewritten or redistributed. We strive to uphold our values for every story published.