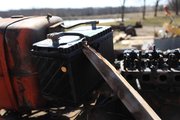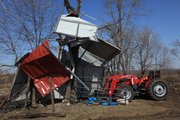 The National Weather Service has determined an EF-0 tornado struck parts of southern Douglas County and damaged buildings south of Globe and Worden.
Meteorologist Matt Wolters said Douglas County emergency management officials completed a damage report Wednesday as property owners were able to inspect things in the daylight.
Damage was reported three miles southeast of Globe, and the National Weather Service determined the path of the tornado was from four miles south of Globe in northern Franklin County to 1.5 miles south of Worden in Douglas County. The tornado lasted from 10:06 p.m. Tuesday to 10:11 p.m.
"Several barns were damaged or destroyed with large trees uprooted, based on a description of the damage," he said.
Joyce Barkley, who lives in the area went to bed about 10 p.m. Tuesday and heard the wind pick up outside.
"I got up to go to the basement, and by the time I hit the stairway, the storm, it was done. The noise was gone," she said.
Barkley returned to bed.
"I got up the next morning and looked outside and everything was gone," she said.
The storm had done severe damage to her barn, but she was glad no one was hurt and that her house and neighbors' homes were spared.
Wolters said an EF-0 tornado is the weakest category of a tornado with winds between 65 mph and 85 mph.
Darlene Schwarz, who drives a school bus for the Baldwin City school district, noticed damage on her route Wednesday that included a tree on the road in one area and damage to barns, other buildings, a roof on a home and a breezeway and garage on a new home under construction.
"You could tell a tornado or something went through there," Schwarz said.
Douglas County Emergency Management Director Teri Smith said most of the damage was tipped-over farm machinery and blown-off shingles. She said a mobile home in the area was destroyed, but officials have not confirmed if anyone was living in the home because no one was home when they checked on it.
Smith said the February storm was a good reminder about being prepared for severe weather — always.
"Take the time now to have a plan, make a kit, and be informed and know what to do before, during and after," Smith said.
Gov. Sam Brownback on Thursday declared a disaster emergency in 19 counties, including Douglas, hit this week by the violent weather, including the storm that spawned a deadly tornado in the eastern Kansas town of Harveyville.
The governor's disaster declaration brings the state into the response to the storms.
Brownback had already declared of a state of emergency Tuesday night in Wabaunsee County after the tornado hit Harveyville. But other areas also had damaging winds, hail and tornadoes.
In addition to Wabaunsee and Douglas counties, the new declaration covers: Butler, Chautauqua, Coffey, Cowley, Crawford, Franklin, Harper, Kingman, Labette, Leavenworth, Marion, Montgomery, McPherson, Reno, Republic, Sumner and Wilson counties.
The storm that rolled through the area was part of the same system that produced a tornado that damaged Harveyville, Wolters said. Kansas officials said Thursday that one man had died from injuries he suffered in Harveyville.
The Kansas Adjutant General's Office said in a statement Thursday morning: "Richard D. Slade, 53, was airlifted to Stormont-Vail Emergency and Trauma Center in Topeka Tuesday night after being pulled from the wreckage of his home. He remained in critical condition and the decision was made Wednesday afternoon to take him off life support. Slade passed away Wednesday evening."
Copyright 2018 The Lawrence Journal-World. All rights reserved. This material may not be published, broadcast, rewritten or redistributed. We strive to uphold our values for every story published.