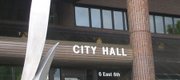 Subscribe to the email edition of Town Talk and we'll deliver you the latest city news and notes every weekday at noon.
News and notes from around town:
• Over the last few days we have reported how May was a good month for retail sales and for home sales in Lawrence. Well, a new report out of City Hall suggests it wasn't such a good month for homebuilding.
Lawrence builders took out just 10 permits for single-family homes and duplexes in May, according to the city's monthly building permits report. That was down from 16 in May 2011. But more significant is: The slow May pushed the year-to-date totals below last year's levels. Through the first five months of this year, the city has issued 49 permits for single-family or duplex homes. That's down from 51 for the same time period a year ago.
In case you had forgotten, 2011 was a brutal year for the Lawrence homebuilding industry. For the first time on record — dating back at least to 1956 — the city issued fewer than 100 permits for single-family homes. So, local builders certainly were hoping to improve upon those numbers in 2012.
And they still might. Both 2009 and 2008 numbers were worse than this at the May mark — 31 and 35 permits respectively — but those years then went on to have stronger second halves. Numbers put out by the Lawrence Board of Realtors indicate new homes sales are gaining momentum, which could spur some stronger building activity for the late summer and fall.
One category that likely won't produce any worries of a shortfall is apartments. No multi-family permits were issued in May. But for the year, the city has issued permits for 306 new apartment units. That's the highest total in at least the last five years. It seems almost certain that more are on the way. I don't believe any of 306 permits currently issued are for the redevelopment of the former Gaslight Mobile Home Village near 31st Street and Ousdahl Road. Once that project starts, another 200 to 300 permits should be going through the system. I believe that will put us within striking distance of a new record for apartment construction in a single year, which I believe is somewhere north of 600 units. I think we were in that range both in the mid-1990s and the mid-2000s, but I can't put my fingers on those numbers currently. I'll find them and we'll see how good my memory is.
• If your memory is good, perhaps you recall we reported back in July 2011 that Rent-A-Center filed plans at City Hall to move into the former Blockbuster video building at 1516 W. 23rd St. As that building has continued to sit vacant for the last year, it has become pretty obvious that deal fell apart.
Now, there are even clearer signs. Rent-A-Center has filed a building permit for expansion work at its existing store at 711 W. 23rd St. I haven't been out there to see how far along work is on the project, but the company filed the permit in May.
Other business related building permits filed in May included:
— A nearly $55,000 office remodel for Kaw Valley Hearing at 1520 Wakarusa Drive.
— A $30,000 remodeling project for Wagmore Canine Enrichment at 1411 W. 23rd St.
— A nearly $163,000 addition for an electrical pump room for Berry Plastic's manufacturing facility at 2330 Packer Road. On the Berry Plastics front, I do hear the company is getting close to moving into its new distribution and printing facility along the Kansas Turnpike northwest of Lawrence. When that happens, it will open up significant space in the manufacturing facility on Packer Road. Economic development officials hope that will lead to Berry increasing its production work in Lawrence in the future.
• When it comes to economic development, there are all types of hopes in Lawrence. One is that the arts scene will become a larger player on the eco devo front.
The idea got a boost on Tuesday when city commissioners unanimously approved $500,000 in property tax rebates to help convert an old apple cider factory at Eighth and Pennsylvania streets in East Lawrence into an art gallery/event space.
Tuesday night got so busy with the marathon discussion regarding the Ninth and New Hampshire hotel issue that I didn't have much of a chance to update you on the East Lawrence project. (Although I did tweet it that night. Follow me at clawhorn_ljw.)
Soon, city commissioners will get the chance to take the idea of arts as an economic development driver one step further. The city's Lawrence Cultural Art Commission is seeking $60,000 in the 2013 city budget to add a new City Hall employee who would act as an arts coordinator.
City commissioners have talked about many issues thus far for the 2013 budget, but adding a new arts position to the City Hall staff has not been one of them. It may have an uphill battle to win funding this year.
We should get a read on the idea and several other budget topics this afternoon. City Manager David Corliss is scheduled to release his 2013 recommended budget later today. Once I see it, I'll provide you an update.
But based the discussions I've heard at city budgets sessions, I'm expecting Corliss will recommend a slight mill levy increase to add about three police officers and some new equipment that will allow city crews to do more maintenance on pavement markings on city streets. I'm guessing the mill levy increase will be less than 1 mill, but you never know. Maybe Dave Corliss will be as unpredictable as John Roberts.
Unlike Roberts, though, Corliss only makes recommendations. City commissioners will get the recommended budget today, study it tirelessly I'm sure during the July 4 holiday, and then will use it as a base for creating the final 2013 budget. They're scheduled to approve the final budget in early August.
Copyright 2018 The Lawrence Journal-World. All rights reserved. This material may not be published, broadcast, rewritten or redistributed. We strive to uphold our values for every story published.