Sixty men and 19 women gathered to compete in the 200-meter street sprints Friday on New Hampshire Street, between Seventh and Eighth streets, to kick off the fourth annual Tour of Lawrence.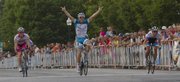 Colton Jarisch and Emilie Flanigan came away as the men's and women's respective champions.
After finishing second last year, Jarisch edged Josh Yeaton, Brad Huff, Lawrence native Joseph Schmalz and Michael Giem in the final heat for the men's title.
"Brad Huff and Joe Schmalz, I mean, they are tough guys to beat," Jarisch said. "I don't beat them very often, if ever, so I'm pretty happy about that."
Jarisch is a member of Mercy Elite Cycling and was proud to bring home a victory for his team.
"I love my team," Jarisch said. "They are great guys. We have great sponsors, I mean, I couldn't ask for a better team to be on this year."
On the women's side, Flanigan's seed time after the second round was good enough to put her in the final heat, and she went on to hold off Venasa Ray for the victory. For Flanigan, the sprints were already going to be the highlight of her weekend.
"I love to sprint," Flanigan said. "I wasn't sure if I was going to be able to make it, but I'm really happy that it worked out and hopefully it will just keep going from there. Hills are a lot scarier than sprints for me, so we'll see how the next couple of days go."
Flanigan came to Lawrence from St. Louis representing the Trek Bicycle Store.
"We have six locations total," Flanigan said. "I'm out of St. Louis, we got two locations in Kansas City and two in Omaha, (Neb.)."
The sprints served as a tuneup for those who are competing in other races this weekend. About 600 total competitors are expected at the Tour of Lawrence.
While only 79 cyclists entered in the sprints, Jarisch believes that most of them will still be fresh for the rest of the races this weekend.
"I don't think (the sprints) take too much out of you since they are so short," Jarisch said. "My strategy was to start in a really light gear. I had it all the way at the end of the cassette in a 26 and really got that pop off the line."
Today's races will move to the Kansas University campus, beginning with the Master's KU Circuit Races at 8:30 a.m.
Copyright 2018 The Lawrence Journal-World. All rights reserved. This material may not be published, broadcast, rewritten or redistributed. We strive to uphold our values for every story published.