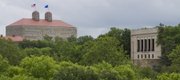 Subscribe to the email edition of Heard on the Hill and we'll deliver you the latest KU news and notes every weekday at noon.
Your daily dose of news, notes and links from around Kansas University.
• I always enjoy stories of professors doing things that seem (at least according to stereotypes) distinctly un-professorial. Here's a good one of those.
Helena Malinakova, an associate professor of chemistry, is competing for a chance to qualify for the U.S. Open tennis tournament, according to this website.
So, that's something not a lot of professors do (at least that I'm aware of).
I'm also not really sure if she can use her knowledge of the chemical makeup of the ball, the court and the net to her advantage at all, but she's obviously managed to be good enough to make it this far.
The website Tiebreak Tennis reports that Malinakova still has a ways to go before she earns a spot in the U.S. Open tournament.
She'll be one of 20 women playing at the Missouri Valley Sectional Women's Championship June 28-July 1 at Homestead Country Club in Prairie Village. If she wins that tournament, she'll be one of 16 regional winners who will compete for a wild card spot in the U.S. Open qualifying.
The website has an interview with her as well, where she talks a little more about her game.
UPDATE: I heard from Patrick Alog of Tiebreak Tennis that Malinakova lost her first match today against top 30 junior Samantha Asch. And also he helped clarify a little misconception I initially made about the way the tournament works. It's complicated, but he explained it very simply this way: she would have needed to win 12 matches to get into the main draw, and 19 matches to become the U.S. Open champion.
• I enjoyed this bit, too, about a KU student whose story was featured on the website of the Wounded Warrior Project, a nonprofit whose mission is to "honor and empower wounded warriors" of the U.S. armed services.
The student, Brent Whitten, and his son Colter were featured donning Jayhawk garb on the front page of the website (you can find them if you click refresh enough times on the main page, or if you just head straight to this link).
Whitten, who will be a senior at KU studying broadcasting, also relayed a bit of his story for the site. He married his wife, Rachel, after graduating high school from Topeka. He served as a specialist in the U.S. Army, and deployed to Baghdad in December 2005. He had been going on patrols for nine months when he was tapped to become a gunner on a commander's Humvee.
"I remember being in the Humvee, and all of a sudden my whole body was on fire," Whitten recalled in his story.
A suicide bomber driving a van had crashed into the Humvee, killing three civilians.
He was flown back to the U.S. and was treated in the burn unit of Brooke Army Medical Center for two months.
If you've got a keen eye, you can also spot a photo of Brent and Colter on Brawny paper towels, where they're part of their "Support Our Heroes" campaign, and they're also apparently featured on a national commercial for the Wounded Warrior Project.
Cool stuff.
• A KU administrator's appointment to the national board of the American Medical Association became official this week.
Julie Goonewardene, associate vice chancellor for innovation and entrepreneurship at KU, was one of three new board members sworn in this week.
The board members are elected by the more than 180 state and specialty medical societies gathering in Chicago for the annual meeting of the AMA's primary policy-making body, according to a statement from the organization.
• Even if you're not cool enough to be featured on paper towel packaging or playing for a spot in a major tennis tournament, you're still plenty cool enough to submit a tip for Heard on the Hill to ahyland@ljworld.com.
Copyright 2013 The Lawrence Journal-World. All rights reserved. This material may not be published, broadcast, rewritten or redistributed. We strive to uphold our values for every story published.