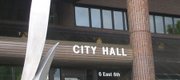 Subscribe to the email edition of Town Talk and we'll deliver you the latest city news and notes every weekday at noon.
News and notes from around town:
• When I went to Lawrence's JC Penney recently, I noticed the fantastic deal on a Leprechaun green blazer for just $20. But that is not what has caught the eye of everyone else. Many other people have been noticing significant construction work under way in the store.
Indeed, the store is undergoing a major remodel, which seems to be good news for folks who have wondered about the future of the South Iowa Street retailer.
Store Manager Mike Ingebretson told me the remodeling is the first step in a three-year plan to remake the store. Under JC Penney's new retail model, the large store essentially will have mini-stores inside it. Work is under way to add interior walls to create a mall-like appearance for Penney's major brands.
The first mini-stores to debut in Lawrence will feature the Levi's brand for men and women and the JC Penney Arizona brand of clothing. Ingebretson said he expects construction work to be completed by Aug. 1. The rest of the store remains open during construction.
Once that work is done, expect more remodeling. Ingebretson said specialty stores for the Liz Claiborne and Izod brands likely will be next in line.
As for the Leprechaun green blazer, curse my hulking chest and arms. I wear a 42 regular and this fine piece of fashion was only available in a 40 regular.
• If I would have bought the green beauty, I suspect my wife may have insisted I find my own closet to store it in. Perhaps in a whole other house without her in it.
Well, it appears in the month of May Lawrence real estate agents were reasonably busy helping people find new homes. The monthly sales report from the Lawrence Board of Realtors found home sales were up 25 percent in May 2012 compared with the same time period a year ago.
Realtors sold 136 homes in the month, up from 108 during May 2011. All told, the 25 percent increase marks one of the better months of the year for the Lawrence real estate market.
The increase also marks the second month in a row that sales totals have been on the upswing. April sales posted a modest 3 percent increase over April 2011 totals. But I think real estate agents also are excited about what the numbers may show in the near future. According to the Board of Realtors, the number of sales in the "pending" category at the beginning of June was up 64 percent compared with the same period a year ago. About 350 homes either are under contract or close to it, according to the group.
As for other numbers from May, here's a look:
— For the year, home sales have crept into positive territory. Through the first five months of the year, the board reports 425 sales, up 4.4 percent from the same time period a year ago. The figures, however, still significantly lag the 525 sales made during the first five months of 2010.
— Sales of newly constructed homes are still lagging the anemic 2011 totals, but not by much. Builders have sold 25 homes through May compared with 26 during the five-month period in 2011. Importantly, though, the board is reporting the number of pending sales for newly constructed homes totals 37. That's up 117 percent from last year.
— The median selling price for homes during the first five months has been $154,000, down 3.8 percent from the $160,000 mark a year ago. The mean selling price is $176,892, down 2.6 percent from year-ago totals.
— The median days on market for a home checks in at 72 days, which is up from 61 days during the same period a year ago. But in more good news for builders, the median days on newly constructed homes has fallen to 81 days, down from 104 a year ago.
Next month's home sales report should be an interesting one. If June sales can show an improvement that would mark three months in a row of good news for the local real estate industry. That would be the strongest sign yet that the real estate market is making a genuine recovery. As I've said before, the numbers suggest real estate is the one sector of the Lawrence economy that has been the slowest to recover. Its slow recovery also has depressed other industries, particularly the building and finance sectors.
• Speaking of slow to recover, put me in that category after last night's marathon City Commission meeting. Commissioners went past midnight debating the future of the multistory hotel/retail project proposed for the southeast corner of Ninth and New Hampshire streets.
Actually, commissioners did very little debating. The project ended up having very strong commission support, winning all five votes. Most of the night was taken up by staff presentations and a courtroom-like feel that doesn't often invade City Hall.
Clearly, city staff members are preparing for the possibility that the City Commission's decision may be challenged in Douglas County District Court. I'll check with the neighbors' attorney today, but I suspect we won't know much on that front until commissioners take one more formal action on the project.
Commissioners on Tuesday voiced their support for the project, but they did not yet finalize it. Instead, staff members were directed to draw up a formal "findings of fact" document that spells out why commissioners believe there are no feasible and prudent alternatives for development of that site. Commissioners create such documents when a threat of a lawsuit looms. Commissioners will be required to vote on that document, I'm guessing in the next week or two.
Once that document is finalized, Lawrence attorney Ron Schneider probably will have a better feel for whether his clients will appeal.
As for what commissioners were thinking on Tuesday (and into early Wednesday), I believe the longtime vacant status of the Ninth and New Hampshire lot played a pretty large role in their decision.
Several commissioners noted the lot has been entirely vacant for more than a decade, despite the fact that it has been part of a special Tax Increment Financing district designed to encourage development. Others noted even when it was in use, it has been a pretty minimal use for about 30 years. There once was a functioning gas station there, but since the 1980s most people remember the site as having a couple of makeshift parking lots and an old house that had seen better days. The parking lots and the house were removed in the late 1990s, I believe, to clear the way for what developers thought would be a flurry of activity in the 900 block of New Hampshire.
Commissioners also were unimpressed with several attempts by neighborhood leaders to show numbers to prove other building projects would be feasible on the site. At least three formal proposals for smaller buildings were presented to commissioners as alternatives for the site.
But several commissioners noted many of the plans made no provisions for major expenses such as property taxes and maintenance, showed a lack of understanding of how construction projects are priced, and ignored several financial realities present in today's lending market.
Plus some commissioners seemed to indicate they found some of the neighbors' arguments against the project odd. A main argument was a smaller project could be built on the site if developers didn't insist on including an expensive underground parking garage.
But several commissioners suggested if a parking garage wasn't included in plans for the lot that neighbors would be expressing concerns about overflow parking spilling into their neighborhood.
"The underground parking does a lot to mitigate potential problems for the neighborhood," Commissioner Hugh Carter said.
All in all, a tough night for the neighbors and a long night for everyone at City Hall.
Copyright 2018 The Lawrence Journal-World. All rights reserved. This material may not be published, broadcast, rewritten or redistributed. We strive to uphold our values for every story published.