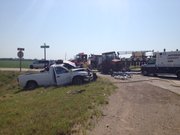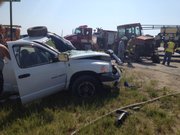 Jefferson County officials dispatched a LifeStar helicopter ambulance to an injury accident reported west of Perry.
According to the sheriff's office, the crash was reported about 3:30 p.m. near the intersection of U.S. Highway 24 and Kansas Highway 237, also known as Bridge Road, south of Perry State Park.
Journal-World photographer Richard Gwin, who was on the scene, said a pickup truck collided with a tractor that was pulling a cultivator. Rescue crews worked to extricate the driver of the pickup truck.
Connie L. Miller, a 54-year-old Oskaloosa resident, was the truck's driver, according to Kansas Highway Patrol records. She was transported to Kansas University Hospital.
Edward Clare Jr., a 56-year-old Meriden resident, was headed south on K-237 when he failed to yield to Miller's right-of-way as she drove east on U.S. 24, the report says. Clare's tractor hit Miller's 2003 Dodge Ram near the front on the driver's side.
Clare wasn't hurt, records show.
Copyright 2018 The Lawrence Journal-World. All rights reserved. This material may not be published, broadcast, rewritten or redistributed. We strive to uphold our values for every story published.