The Lawrence Raiders clicked on all cylinders against the Topeka Capitals on the way to an 8-0 run-rule victory Sunday in their final game of the Kansas University tournament at Hoglund Ballpark.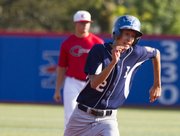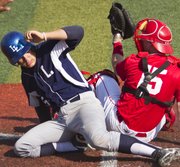 "It was a complete ballgame like these kids are capable of doing," Raiders coach Brad Romme said. "In our very few short talks that we've had, it's just to play a complete game on both sides of the ball."
Lawrence put together a two-out rally to take a 2-0 lead in the top of the first against Topeka starting pitcher Jordan Haugen. Aaron Waldeck drove in Aaron Gile with an RBI single for the Raiders' first run and then came home to score on another RBI single from CJ Roush.
When the Capitals threatened to get on the scoreboard in their half of the first inning, Roush made a diving catch in right-center field to take extra bases away from Jaren Kutzke. Roush then threw the ball to Waldeck to double Haugen off first base.
"It was pretty exciting," Roush said. "It was probably one of the best catches that I've ever made. I got a little burn on my hand that wasn't too fun, but it was pretty fun after I made it."
The Raiders scored two more runs in the second when Trevor Champagne knocked in John Fellers and Cam Solko.
The Capitals then helped out the Raiders by committing two errors in fourth, which resulted in three runs. After Fellers singled to left field, Champagne hit a double down the third base line to bring Gile to the plate with two runners in scoring position. Gile hit a ground ball to the shortstop, but was safe because of a wild throw to first. Gile advanced to second after the throw as Fellers and Champagne came in to score. Waldeck followed up Gile with a single to left field, which left runners at the corners until the Capitals committed their second throwing error of the inning to push Gile across the plate and move Waldeck in to second.
After Troy Willoughby pitched three scoreless innings for the Raiders, Devin Garcia entered the game in relief. Topeka loaded the bases with two outs, but Garcia struck out Derrick Bohn to end the inning.
The Raiders' offense got the last of their 13 hits from Landon Hay when he doubled to lead off the fifth inning. Matt Sutliffe came in to pinch run for Hay and went on to score after bases on balls to Otto Kaifes, Solko and Fellers.
Garcia stayed in to pitch the fifth and kept the Capitals off the scoreboard to close out the victory.
"These seniors from (Lawrence and Lawrence Free State) high schools, we played together last summer and this is just how we do things," Champagne said. "We come out and take care of business and anything less than a win is not up to par."
Lawrence finished the Kansas University round-robin tournament with a 3-1 record and improved to 15-8 overall.
"We feel really good about how the team finished up this weekend right here at home and we have about a full week off until we play again," Romme said. "That is really how you want to finish a stretch when you are not going to play for a while."
The Raiders will have a chance to recover from their four games in four days as they will not play again until hosting a doubleheader against the Topeka Blues at 1 p.m. Sunday at Lawrence High School.
Copyright 2018 The Lawrence Journal-World. All rights reserved. This material may not be published, broadcast, rewritten or redistributed. We strive to uphold our values for every story published.