Starting pitcher Trent Johnson threw a complete game to help the Lawrence Raiders defeat Manhattan Manko, 5-2, on Saturday in their third game of the Kansas University tournament at Hoglund Ballpark.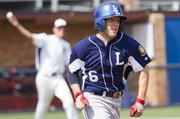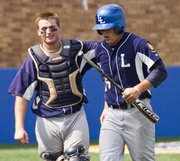 "I just feel like I was throwing strikes and letting my defense back me up," Johnson said. "It is pretty easy for a pitcher when you don't really have to locate and just throw strikes."
Johnson allowed five hits while striking out three batters and only walking one.
"(Johnson) was dominant just like JD (Prochaska) was (Friday)," Raiders coach Brad Romme said. "I'm extremely proud and happy for Trent because he just had so much composure. There were a couple of little, shaky spots that he fought through. He kept looking at me and shaking his head saying, 'Don't come out here. Don't come out here.'"
The Raiders' offense supported Johnson with a 10-hit attack against Manhattan starting pitcher Spencer Anderson.
Lawrence was unable to get a hit off Anderson the first time through the lineup, but the Raiders strung together four singles in the fourth inning and tied the game at 1-1 after an RBI from Aaron Gile.
"I think we just saw (Anderson's) offspeed (pitches) more," Gile said. "We got more patient, calmed ourselves down and got timely hits."
The Raiders picked up where they left off in the fifth inning by scoring three runs to take a 4-1 lead with Gile again being the offensive catalyst. Following CJ Roush's RBI single to knock in Aaron Waldeck, Gile brought home Roush and Tommy Oswald with a two-RBI double to center field.
Lawrence tacked on another run in the top of the sixth with a RBI single from Matt Wagner, but the Raiders found themselves in trouble to begin the bottom half of the inning.
A fielding error and single put runners on first and second base with no outs, but Johnson regained control to limit Manhattan to one run in the inning. Lawrence owned a four-run lead going into the seventh and went on to end the game by forcing a double play for the second day in a row.
The victory improved the Raiders' overall record to 14-8 and 2-1 for the tournament.
"With the squad we got and quality kids that we have going to play college baseball next year and a couple of juniors going back to school, we're trying to go out and get better as individuals, but still win every baseball game," Romme said. "We'll probably play some guys and get some guys some at-bats out of position Sunday. ... Don't even really know who is going to go on the mound yet. Our expectations are always the same, though, every time we go out there."
The Raiders will play their final game of the tournament at 5:30 p.m. today at Hoglund.
Copyright 2018 The Lawrence Journal-World. All rights reserved. This material may not be published, broadcast, rewritten or redistributed. We strive to uphold our values for every story published.