One minute Darin Pearson is on his knees in the middle of an Eagle Bend Fairway, as if divine intervention somehow can fix a slice. The next he is stabbing one of the course's undulating greens with a screwdriver, perhaps hoping to exact some revenge for a three-putt.
Brett Roberts is no better. He's driving on a golf cart, constantly circling the course with his head down like a man forever in search of his errant golf ball. Everywhere you look, Roberts is zigzagging from fairway to fairway, making you feel better that at least your hook isn't that bad. The man has a shovel on his cart, for heaven's sake. Take a drop, my friend.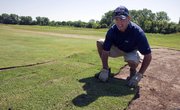 Across the tree line at the city's Youth Sports Complex, Rod Hoffer is partaking in what has perhaps become the summer pastime of every parent in Lawrence: spending hour upon heat-scorched hour at a youth league baseball or softball field.
The summer season is now in full swing. Lawrence is a city at play.
But the trio of Pearson, Roberts and Hoffer are not at play. They're Lawrence Parks and Recreation employees. But even more specifically they're part of a 26-member crew known as District 1.
Nearly all Parks and Recreation employees see a spike in their activity levels in the summer, but with this crew it is even more pronounced. District 1 includes the 1,600 acres of property below the Clinton Lake Dam. The area is home to Eagle Bend Golf Course, and an array of baseball, softball, soccer and football fields that are part of the Youth Sports Complex and the Clinton Softball Complex. Just for good measure, District 1 also includes Holcom Sports complex, which includes more baseball fields, and the baseball diamonds at Broken Arrow Park. In total, the district has 19 baseball/softball fields, 15 soccer fields, five football fields and an 18-hole golf course.
Simply put, the crew of District 1 is on the front lines of summer.
But they're a happy bunch of warriors. They take their cue from their leader's attitude.
"Man, I love helping people play," said Pearson, who is the District 1 superintendent. "This has got to be the greatest job in the world."
On the course
You've probably guessed by now, but Brett Roberts really isn't driving circles around the Eagle Bend Golf Course looking for his ball. But you might be surprised at what he is looking at — approximately 800 irrigation sprinkler heads.
Roberts studies sprinkler heads like bad golfers study ways to wade five feet into a pond to retrieve their final golf ball. Each workday, Roberts drives the course looking for telltale signs of problems with the watering system. Why is water pooling here? Why is there a brown spot there? How is today's wind drying out the course?
"It is definitely a bit of an art and a science," Roberts said.
Each day, there are 800 sprinkler heads to study. If you thought playing the game of golf was a detailed activity, try growing the grass to play the game.
"The job of a good golf course guy is to be detailed," said Pearson, who also serves as the superintendent of the Eagle Bend Golf Course.
Nowhere is that more evident than when it comes to water management. Pearson tells people water is his "gold." On some days — the really hot and dry ones — the course may go through about 400,000 gallons of water to maintain its 115 acres of manicured turf. But the gallons always come with a plan.
"I think people figure we just turn on the sprinklers and let them go," said Pearson. "But that's not the way it works. There's a lot of thinking that goes on with this."
Each day at 3 p.m. Roberts, Pearson and other crew members gather around a computer to custom set how long each sprinkler head will be on for the following day. But that's just the beginning of the micro adjustments. On the putting greens — even though all are fully irrigated — crews spend about six hours a day hand-watering the greens.
Pearson said greens dry out at a different rate, so the amount of water needed for one particular square foot of green is likely different from what's needed for another square foot. If grass receives too much water, a fungus will develop. In case you are wondering, that is why Pearson was on his knees in the middle of a fairway. It helps to get close to the surface to see the black film of the fungus.
Crews that mow each day make hand-drawn maps of the greens to highlight areas that need more water than others. The process gets so detailed that during some times of the year, Pearson may direct a staff member to pour a single cup of water on a particular spot of a green. But during the summer, the process usually involves a quick blast from a hose.
And yes, sometimes a screwdriver. Sticking a screwdriver into the green is a method Pearson sometimes uses to test the moisture of a particular spot. But he would really appreciate it if you don't stab his greens. After all, it really wasn't the grass that caused you to miss that three-footer.
On the field
So, you think all baseball fields are the same? Tell me: What are the base distances for 9-year-olds vs. 13-year-olds? What about pitching distances? Is there a chalk circle around home plate? Where exactly do these coaches boxes go?
Rod Hoffer, field supervisor for the city's Parks and Recreation Department, would admit that preparing a baseball or softball field for play isn't rocket science, but it sure doesn't happen on its own.
On a recent Wednesday, 18 of the 19 baseball/softball fields in District 1 were scheduled to have a game played on them that evening. A large whiteboard that stretches more than 10 feet across the District 1 office is filled with notes about how each field needs to be prepared.
"My goal is to not get that 6 p.m. phone call about why the bases are in the wrong spot or why the pitching rubber is back too far," Hoffer said.
It will take Hoffer's crews a full five hours to prepare just the infields for all the games. That doesn't include any time spent on mowing outfields, cleaning bathrooms at the complexes, emptying trash cans or making sure the pretty flowers you walk by while murmuring about an umpire's call are watered.
At 8:30 a.m. on a Wednesday, there were a total of nine Parks and Recreation employees working at the Youth Sports Complex to get the area ready for that night's play. Pearson said that was pretty normal. There's always grass to be mowed, there's always a project — a new water fountain and seeding of a new football field were both on tap that Wednesday — and most of all, there are always people to serve.
Pearson, who spent 19 years caring for the Alvamar Country Club golf course, said he's often amazed at how many people are at the dog park or on the West Lawrence bike paths or the arboretum or at any of a number of other stops he makes during his day.
Really, he and his crew are on the front lines of summer. Occasionally, they'll be the target of some verbal volleys — the fields are too hard, there's too much dust, the greens don't roll at the right speed. But Pearson insists there's no need for hazard pay on these front lines.
"We're definitely busy, but it is different type of busy," Pearson said. "It is fun when you set up a field or prepare the course and you then later hear the people laughing and see the excitement of a kid. It is cool to feel like you helped create that."
Copyright 2018 The Lawrence Journal-World. All rights reserved. This material may not be published, broadcast, rewritten or redistributed. We strive to uphold our values for every story published.