Photo Gallery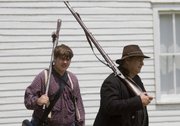 Lecompton's Territorial Days 2012
Clutching a double-barrel 12-gauge shotgun, Charles Dugan stands in a field in Lecompton waiting for the clock to strike 2 p.m. At 2 p.m., Dugan and the similarly armed men huddled around him were to attack Fort Titus, the cabin 100 yards away.
Their guns are filled with blanks, of course. But most of the children sitting in the nearby grass don't seem to know that.

"They're just pretending," one woman explained to her young son.
"I think they look silly," said Samantha Peine, 4, as she gazed at the men dressed in 1850s clothing.
Sitting on the grass, yoga style, is Kathleen Peine, Samantha's mother.
"We thought we would watch," she said. "I haven't watched the re-enactors in 10 years. … It's interesting to see people who have such an unusual hobby and (to see) how far they'll go with it."
Charles Dugan, who has been a Civil War re-enactor for 15 years, will go far, but not that far. His glasses, for instance, are modern day. But his clothing is up to par.
"The Civil War (re-enactors) will raise a little bit of hell with you if you're not up to par," Dugan said. "When you get through, you just walk off and go back to the way you were."
The Lecompton Re-enactors performed a rendition of the Battle of Fort Titus as part of the Historic Lecompton Territorial Days. The Lecompton Historical Foundation hosts the event.
Festivities included blacksmithing demonstrations, battle re-enactments and a parade. Food and inventory vendors lined the streets at Constitution Hall in Lecompton.
Weaving through the crowd were re-enactors dressed in 1850s clothing: hoop skirts, fans and bonnets, trousers, vests and tall top hats.

Heather Kurtz, sat on a shaded bench, sipping on a melty cotton candy slushy. Dressed in modern clothes, she watched her 4-year-old son, Winston, play on the blue banana slide nearby.
"It's a lot of fun," she said. "We get to see a lot of family. They have really nice vendors. And there's really neat stuff (for sale). ... The kids can just run around and have a great time."
It was Kurtz's second year at the event, and it will likely not be her last. Her husband, Mike, has family in Lecompton, and Territorial Days is one of their yearly traditions.
"It's a time for everybody to get together, eat some food and have some beer, of course," Kurtz said.
Back at Fort Titus, 2 p.m. finally struck and the Free Staters descended upon the pro-slavery camp at Fort Titus. Guns were fired and cannons shot. One by one, the pro-slavery defenders fell to the grass, dead or dying, until those remaining waved a white flag and begged for mercy.
"When I go back east and people ask me where the Civil War started and I say Lecompton, Kansas, they all call me a liar," Dugan said. "(But) the first battle started here (at Fort Titus) and it was over slavery."
Copyright 2018 The Lawrence Journal-World. All rights reserved. This material may not be published, broadcast, rewritten or redistributed. We strive to uphold our values for every story published.