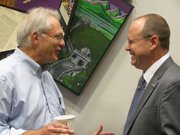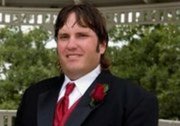 Now that Democratic-leaning Douglas County is entirely in the 2nd Congressional District, Democrats say they perceive an opportunity.
The 2nd is represented by Lynn Jenkins, a Republican from Topeka, who is seeking re-election to a third two-year term.
Ten years later, legislators were unable to agree on new redistricting maps, so a panel of three federal judges united Douglas County and put it all in the 2nd.
That has changed the profile of the 2nd, according to 2010 voter registration figures.
It has gone from a district where 41.7 percent of voters were registered Republicans, 28.8 percent Democratic and 28.7 percent independent to one that is 39.8 percent Republican, 30.3 percent Democratic and 29.2 percent independent.
Jenkins' 13 percentage point edge in Republican registered voters over Democrat registered voters has decreased to 9.5 percentage points.
Three Democrats are vying for the party's nomination in the Aug. 7 primary. They are Robert Eye, a Lawrence attorney; the Rev. Tobias Schlingensiepen, a Topeka minister; and Scott Barnhart, an Ottawa farmer.
"The map is as good as it has ever been," Eye said of the redrawn 2nd District.
Eye said the future of the middle class is at stake in the November election.
"Republicans say lower taxes for the rich. Republicans protect health insurance companies at all costs. Those are not solutions that we can afford," Eye said. "Solutions don't necessarily have to make the rich richer and concentrate political power in fewer and fewer hands."
Schlingensiepen said the 2nd is a politically diverse district that requires someone who will buck party leaders in Washington, D.C. Jenkins, he argues, has been too beholden to Republican leadership in the U.S. House.
"Kansas needs a voice, not an echo," he said.
Schlingensiepen also said the Democratic nominee will need to reach out to independents and moderate Republicans to win the 2nd.
Barnhart said for a Democrat to win in the 2nd, the candidate must appeal to the middle class, which he said is being hit by both the right and left.
"People on the right want tax breaks, and people on the left want handouts. The middle class — we end up paying for it all," he said. Kansans want to help out people in need, he said, "but they don't want people to get dependent on the government, and they don't like shipping jobs overseas and billionaires buying elections."
Barnhart ran unsuccessfully for the state Senate in 2004, Franklin County commissioner in 2008 and the state House in 2010.
Jenkins, a former state legislator and state treasurer, said that despite the changes in the district, she is confident she can hold on to her job.
"While it's difficult to say, given her Democrat opponents haven't publicly taken any policy positions at this point, we're guessing that 2nd District Kansans will continue to agree more with Congresswoman Jenkins than whichever Democrat should emerge," said Jenkins' campaign spokesman Pat Leopold.
Leopold said Jenkins is glad to have Douglas County wholly in the 2nd, saying that uniting Lawrence and also bringing Montgomery County in southeast Kansas into the 2nd "are both common-sense solutions."
"She enjoyed representing those 'new' areas previously when she was state treasurer and would be honored to again represent them as their member of Congress," Leopold said.
But during the redistricting battle in the Legislature, there were Democrats and Republicans who said Jenkins was pushing for congressional boundaries that would have placed all of Douglas County in the 3rd, and put urban, Democratic Wyandotte County in the mostly rural 1st.
But Jenkins defenders had said they wanted to keep Manhattan in the 2nd because Jenkins was better positioned to protect funding of the National Bio and Agro-Defense Facility that has been proposed to built at Kansas State University. The judges, however, put Manhattan in the 1st and erased the division in Douglas County.
Copyright 2018 The Lawrence Journal-World. All rights reserved. This material may not be published, broadcast, rewritten or redistributed. We strive to uphold our values for every story published.