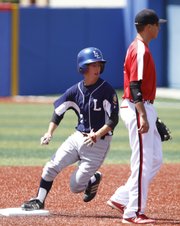 Bad first and last innings doomed the Lawrence Raiders to a 9-2 American Legion baseball loss to Naturals Baseball on Thursday in the opening game of the Kansas University tournament at Hoglund Ballpark.
Natural Baseball touched Raiders starter Cam Solko for two runs in the first, but Solko struck out Travis Manes with the bases loaded to limit the damage.
"After that first inning, there were no more crooked numbers," Raiders coach Brad Romme said. "(Solko) pitched easily well enough for us to win. So I was very proud with how he responded to inning one."
Solko allowed four hits over the next five innings before turning the game over to the bullpen.
"Honestly, I had a couple of pitches that just weren't working for me just flat-out," Solko said. "So I just went with what was working and moved (the ball) in and out and changed speeds on them."
The Raiders threatened as well in the bottom of the first, but left the bases full without scoring. Lawrence struggled to hit with runners in scoring position throughout the game; six of the eight team's runners left on base were stranded in scoring position.
"We've been banging (the ball) around pretty good, but we've got to bang it around when there are guys on second base," Romme said. "(Trent Lunsford) was pretty good out there. He kept us off balance, but our approach is going to stay the same. We'll be fine tomorrow morning, but the timely hitting needs to come through for sure."
Going into the bottom of the fifth inning, the Raiders trailed 4-0 until Trent Johnson came through with a two-RBI double to cut the deficit in half.
Johnson's double knocked Lunsford out of the game, but Riley Kyle came in to retire JD Prochaska and Matt Wagner to end the inning.
Aaron Gile added two doubles on the day, one of which hit the base of the 400-foot wall in center field.
"I was seeing the ball really well today, and I was trying to execute and put runners in scoring position and get timely hits," Gile said.
Natural Baseball pulled away with a run in the sixth and four more runs in the seventh.
The Raiders (12-8) play their second tournament game at 9 a.m. today at Hoglund.
Copyright 2018 The Lawrence Journal-World. All rights reserved. This material may not be published, broadcast, rewritten or redistributed. We strive to uphold our values for every story published.