JD Prochaska threw a complete-game, three-hit shutout to give the Lawrence Raiders a 3-0 victory against Kansas Crush Elite in the Raiders' second game of the Kansas University tournament on Friday at Hoglund Ballpark.
"I felt good," Prochaska said. "It is pretty easy when you go out and get a three-run lead like that in the first inning and you just have to come out and throw strikes."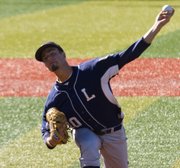 The Raiders scored all three of their runs in the first inning without getting a hit. Troy Willoughby led off the game by beating out a wild throw to first by the third baseman. The ball bounced far enough away from first to allow Willoughby to advance to second.
After a walk by Trevor Champagne, Lawrence had runners at first and second. The Raiders then pulled off a double steal.
Though Aaron Gile struck out, cleanup hitter Matt Sutliffe followed with a walk to load the bases.
CJ Roush drove in Willoughby for the Raiders' first run. After a force at second for the second out, Roush stole second. The catcher's throw went into center field to bring home Champagne and moved Roush to third. Roush came in to score on Jake Biller's wild pitch to Matt Wagner.
Although head coach Brad Romme was pleased with how the Raiders' capitalized on Kansas Crush Elite's miscues, he was frustrated with his team's overall offensive effort.
"We're a little disappointed that we come out hot, and then we coast," Romme said. "I know all of these kids and the high schools they went to, and that is not what we do around here. I was happy that they jumped on top, but we need to play seven innings offensively. That is going to be an area of concern for the next couple of games."
The Raiders (13-8 overall, 1-1 in the tournament) will take the field again at 3:30 p.m. today at Hoglund.
Copyright 2018 The Lawrence Journal-World. All rights reserved. This material may not be published, broadcast, rewritten or redistributed. We strive to uphold our values for every story published.