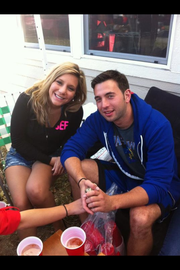 Douglas County prosecutors have charged a man with involuntary manslaughter in connection with the February death of a 27-year-old Lawrence man after a fight near 14th and Kentucky streets.
According to district court records, prosecutors filed the reckless involuntary manslaughter charge against Mission resident Justin P. Gonzalez, and a judge found probable cause on Friday to issue a summons in the case. He's charged in connection with the death of Nicholas J. Sardina, an Iraq war veteran and former student at both Kansas and Kansas State universities.
Gonzalez is scheduled to have a first appearance on the charge on July 26.
Lawrence police in February said Sardina died at a residence in the 1500 block of Tennessee Street the afternoon of Feb. 25 and that as part of an investigation officers determined he was involved in a physical altercation hours earlier in the 300 block of West 14th Street. Police, coroner's officials and prosecutors spent several months conducting an investigation.
Sardina's girlfriend, Darcy Singleton, said in February that she understood he had been at a party at a house in that block. She told the Journal-World she received a text message from him at 3:45 a.m. Feb. 25 saying he had been involved in a scuffle and had a bottle broken over his head.
Sardina was originally from Clarence, N.Y. He was a sergeant in the Kansas National Guard and had served three tours in Iraq from 2006 to 2007 with the Army's 1st Infantry Division based at Fort Riley. Friends said he played on club hockey teams at both K-State and KU. He had last enrolled at KU during fall 2011.
Copyright 2018 The Lawrence Journal-World. All rights reserved. This material may not be published, broadcast, rewritten or redistributed. We strive to uphold our values for every story published.