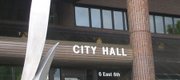 Subscribe to the email edition of Town Talk and we'll deliver you the latest city news and notes every weekday at noon.
News and notes from around town:
• Well, color me surprised. Wait, wait, it is just a figure of speech, people. Why would you think people actually would want paint thrown on them?
Come to find out, some people do want paint thrown on them, and this fall Lawrence leaders are betting a bunch of people will want paint thrown on them in Downtown Lawrence.
That's the idea behind an event called the Color Run. Cities across the country have been holding events where people gather for a 5 kilometer run/walk, but with a twist. All the runners wear white clothing at the beginning of the race. They then pass through "color zones" about every kilometer where race organizers shoot the runners with colored food starch.
At the end of the race, runners have a tie-dyed running outfit, and probably a few oddly colored body parts as well.
But even odder is how many people apparently have gotten into this. The Lawrence Convention and Visitors Bureau believes 12,000 people will participate in a fall run held downtown. Kansas City is having a Color Run event at the end of the month that apparently has grown so popular that they've added a second day to accommodate racers. Bob Sanner with the Lawrence Convention and Visitors Bureau told city commissioners that Kansas City is expecting upwards of 30,000 participants.
"It has become a viral event," Sanner said. "It is social media at its best."
The races have become frequent topics of YouTube videos, and you can see scenes from one race here.
As for the Lawrence event, city commissioners agreed to set Oct. 6 as the date for a downtown event. Current plans call for the race to begin at 4 p.m., which Sanner said should do the most good for downtown businesses because the race will end near the dinner hour.
"We think there will be a lot of racers looking for a place to eat," Sanner said.
Details on the race route are still being developed, but the event would involve closing the northern half of the 900 block of New Hampshire from noon to 11 p.m. on race day. The New Hampshire area would serve as a start and finish line area, and also would host an after-race party. Organizers currently are planning to run the race through East Lawrence near the Hobbs Park area and along parts of Seventh, 10th, Oregon and Haskell.
The zones where runners are shot with color will be closed to traffic throughout the event and for a couple of hours afterward while the area is cleaned up. City officials did inquire about whether the color would do any damage to streets. Event organizers said the color solution cleans up fairly easily. Event organizers will be responsible for the clean up.
Sanner said proceeds from the race event — in Kansas City the entry fees run upwards of $50, depending on when you register — will go to a local charity. He said his office is close to making an announcement on that front.
• So far, plans for a new "sports village" in northwest Lawrence haven't included an area to spray people with colored corn starch. But, it is still early in the process. As we reported from last night's meeting, city commissioners directed staff members to negotiate a contract with Lawrence-based GouldEvans to work on design issues related to a proposed 160,000-square-foot fieldhouse/recreation center.
Lawrence architect Paul Werner has been working on designs on behalf of proposed builder Thomas Fritzel. But the city wants to have a city-hired architect be involved in the process as well.
GouldEvans won't exactly be starting from scratch on the project. GouldEvans partner John Wilkins presented several preliminary design ideas on Tuesday. Here's a look:
— The facility would be designed to have 12 basketball courts in operation at any one given time. Court sizes would range from 50 feet by 70 feet to 50 feet by 84 feet, depending on how the center is configured for a particular tournament. The facility also could be configured to accommodate 12 volleyball courts.
— The gym space would be equipped with wood floors, eight scoreboards and would be wired to accommodate video monitors. The gyms would be built in a large open area of about 85,000 square feet. The gyms could be separated by motorized curtains.
— For a large event, such as a championship game of a tournament, the gym area could accommodate a crowd of about 2,000 people, using roll out bleachers and an overhead gallery space.
— About 7,000 square feet of the building would be devoted to a wellness center. Details of that facility haven't yet emerged. City officials are hopeful Lawrence Memorial Hospital will become involved in the project and come up with specific ideas for the wellness space.
— About 12,000 square feet would be set aside for a "multi-purpose" area. The area may include an indoor turf area for soccer or indoor football, but Parks and Recreation leaders haven't yet decided whether indoor turf or a more traditional sports floor would be better utilized by the community. In other words, football and soccer fans, if you want an indoor turf field, you had better start making your thoughts known to city officials.
— About 5,000 square feet would be devoted to gymnastics. The room would include 20 foot high ceilings, and a raised viewing area to allow spectators to look down on the gymnastics action. This area also may be the space where an indoor walking/running track is built.
Plans call for at least a 1/8th mile, three-lane track to be built somewhere in the building, but architects haven't yet figured out where it will be. Commissioners on Tuesday may have made their task a little more difficult. Several commissioners said a larger indoor track would be preferable. Commissioners believe an indoor walking track will be a major selling point for the senior community.
— About 2,000 square feet would house an aerobics/dance area that could accommodate classes up to 50 people.
— About 4,500 square feet would be used for a fitness/cardio room that would include both weights and cardio equipment. Current plans call for the area to have a controlled access point to keep people who are at the facility for a tournament from wandering into the area.
— Additional spaces would include two small community meeting rooms, office space, locker room space, and a game room/lounge area.
Commissioners are hoping to have more solid design plans in place by Aug. 7, which could include some renderings of what the facility would look like.
• The facility almost certainly will not look like an old cider vinegar factory. But that doesn't mean city officials are opposed to spending money on an old cider vinegar factory.
The development group that is restoring the Poehler Grocery Warehouse building near Eighth and Delaware streets into affordable apartments has purchased the old cider vinegar building near Eighth and Pennsylvania streets.
Developer Tony Krsnich is working to convert the ground floor of that building into a large art gallery/reception space. The project also would include a large outdoor space for events and art. The second floor of the project would be small office spaces that budding businesses could rent.
As we previously have reported, the project is seeking financial incentives from the city. Details on those incentive now are emerging. The city's Public Incentives Review Committee has recommended the project receive a 10-year rebate on 95 percent of the new property taxes that would be generated by the improvements to the building. The rebate would be part of the Neighborhood Revitalization Act. The rebates are expected to total $500,000 over a 10-year period.
In addition, the project will seek city money to rebuild Pennsylvania Street, and to make other infrastructure improvements. Cost estimates for that portion of the project haven't yet been developed.
As for the property tax rebate, the City Commission, the School Board and the County Commission all will have to approve the rebate request. Expect hearings on those projects in the next couple of weeks.
Copyright 2018 The Lawrence Journal-World. All rights reserved. This material may not be published, broadcast, rewritten or redistributed. We strive to uphold our values for every story published.