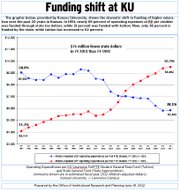 Topeka — Economically and academically, Kansas University is getting more expensive and selective.
The Kansas Board of Regents on Wednesday approved tuition and fee increases and gave KU permission to go ahead with the process of putting in place tougher admission standards.
The increased costs will take effect this fall. Most KU students pay tuition under a compact that guarantees their rate for four years. Under that compact, incoming KU freshmen who are Kansas residents will pay an additional 4.9 percent in tuition and fees, bringing the cost of a 15-credit-hour semester to $4,839. Tuition and fees for non-resident freshmen will increase 5 percent, to $11,874.
Transfer students and students who stay longer than four years pay a different standard tuition rate. That rate, combined with fees, is also proposed to increase by 4.9 percent for residents, to $4,444, and 6.7 percent for non-residents, to $10,865.
Board members lamented the increases requested by the regents schools, but unanimously supported them, saying they were necessary to maintain quality.
The increases for resident students will be Kansas State, 5.1 percent; Emporia State, 6.5 percent; Pittsburg State, 6.4 percent, Fort Hays State, 3.7 percent, and Wichita State, 3.5 percent.
Regent Dan Lykins of Topeka said the cost of higher education and health care continues to skyrocket while salaries for many working Kansans have decreased.
"Wealthy families will be able to afford this," Lykins said of the tuition and fee hikes. "Poor families, hopefully, will be able to get grants. For the average Kansas family, this is going to be tough. I am worried about the future because as we continue to raise tuition, some student is going to say I can't afford to go to school anymore."
Over the past 20 years, there has been a dramatic shift of funding higher education from state appropriations to tuition, according to data provided by KU.
In 1991, nearly 69 percent of per student operating expenses at KU was funded through state tax dollars, while 31 percent was funded with tuition. Now, only 38 percent is funded by the state, while tuition has increased to 62 percent.
Regent Fred Logan Jr., of Prairie Village, said even though the increased costs are a burden on students and families, getting a degree "is the best investment that anyone can make."
Hannah Bolton, KU student body president, said the increases will help maintain the quality of the schools.
"You want to invest in excellence," Bolton said. But she added the increases are making it more difficult for many students.
Bolton said many students have two jobs during the week and sometimes a third job on the weekend, and the competition for scholarships is increasing.
The tuition and fee increases at KU will generate about $14 million in additional revenue.
Of that amount, $6 million will be used for salary increases to retain faculty and staff, $3.7 million will cover required costs, such as health insurance, and $1.1 million will be used to provide grants to students with financial needs, while the rest will cover numerous other operating expenses.
On the issue of admissions standards, the board voted 8-1 to approve KU's request to set the bar higher. If new regulations supporting the request are approved by December, then KU will start using the new standards in August 2016.
"We have an aspiration to increase the graduation rate. We have an aspiration to increase the retention rate," said KU Chancellor Bernadette Gray-Little.
But Gray-Little said the school wasn't trying to discourage applicants. "I want every student who can come to KU and have a good experience, to be at KU," she said.
Currently, admission criteria are the same for all six regents universities. A Kansas high school graduate can be admitted if he or she:
• Has an ACT score of at least 21 or SAT score of at least 980, or
• Ranks in the top one-third of the high school class, or
• Has a 2.0 grade point average on a 4.0 scale in the Kansas Qualified Precollege Admissions curriculum.
Under the new standards, to be automatically admitted to KU, students would have to apply by Feb. 1 and complete the pre-college curriculum, along with one of the following:
• A minimum 3.0 cumulative GPA and an ACT score of at least 24 or 1090 SAT, or
• A minimum 3.25 cumulative GPA and an ACT score of 21 or 980 SAT.
Students who don't meet the automatic admissions criteria will have their applications reviewed by a committee that will look at numerous considerations, including whether the applying student would be a first generation college student, or is the child or grandchild of KU graduates, and has the potential to succeed academically.
KU Provost Jeff Vitter said the higher standards will allow KU to capture "the high achiever students who leave Kansas" under the current standards, he said.
Regent Janie Perkins of Garden City was the lone dissenter, saying she was concerned the higher criteria, especially the Feb. 1 deadline for consideration of automatic admission, would be a roadblock to some students.
Gray-Little said students applying to KU before Feb. 1 had a much higher incidence of advancing to their sophomore year than those who apply after Feb. 1 — 81 percent to 57 percent.
She said the ability of a student to apply earlier in his or her senior year of high school probably indicates that the student has more organizational skills and home supports.
Copyright 2018 The Lawrence Journal-World. All rights reserved. This material may not be published, broadcast, rewritten or redistributed. We strive to uphold our values for every story published.