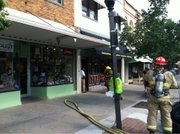 David Lavender was frying catfish about 4:30 p.m. Tuesday in his second-story apartment downtown when he went downstairs briefly to let a friend in a locked door.
As he came back up the stairs, he noticed heavy smoke filling the apartment.
"It was bad. I couldn't see anything. I didn't even try to go back in," Lavender said.
Minutes later, Lawrence firefighters responded and began fighting the upstairs blaze in the apartment above Pickleman's, 818 Mass.
Lawrence-Douglas County Fire Medical Chief Mark Bradford said about 5:45 p.m. Tuesday, as initial crews were leaving the scene, that investigators would begin trying to determine the official cause and damage estimate of the fire. He said the blaze did originate in the kitchen area of the back apartment.
The Douglas County chapter of the American Red Cross was assisting Lavender and his roommate because of the damage to the apartment. Bradford said residents of a second unit upstairs would be able to remain in their apartment. Jane Blocher, executive director of the Red Cross chapter, said the agency provided food, clothing and lodging assistance to Lavender and his roommate.
The fire did not spread to any adjacent buildings, but Pickleman's sustained some water damage, Bradford said.
One firefighter who was part of the initial attack crew was injured. He was alert when he was placed onto a stretcher about 5:15 p.m. with an apparent heat-related injury. Bradford said his injuries were not considered to be life-threatening.
No other injuries were reported.
The response to the fire caused most of the 800 block of Massachusetts Street to be blocked for several hours Tuesday evening.
Bradford said that downtown fires can present challenges because buildings are so close together and because each building is often split between commercial and residential use. It can be more difficult to tell how many people are occupying the building initially.
"Any time we have a downtown type of fire, we cringe because it will move very, very quickly," he said.
Bradford said the department did call for assistance from a Johnson County fire crew based on the amount of calls they were handling in the city and because they were unsure how significant the downtown fire could be. The Johnson County crew made it to Lawrence but then left quickly because they were not needed, he said.
Bradford later said that crews had determined that the fire was accidental and caused $55,000 in damage.
Copyright 2018 The Lawrence Journal-World. All rights reserved. This material may not be published, broadcast, rewritten or redistributed. We strive to uphold our values for every story published.