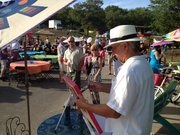 Hailey Freese owes much to Van Go, a local arts-based, job-training program that helps at-risk youths.
Freese, who is 18 years old, said the program taught her responsibility, determination and teamwork. She gained confidence, work experience and a family of friends.
"It has changed my life," she said.
It was for the Van Go program that about 550 people gathered Saturday night at Clinton Lake Marina. Eliza Nichols, event organizer, guessed that the event had raised a record $100,000 in funds.
At the event, called What Floats Your Boat, organizers auctioned off 22 different items, ranging from paintings to parasols, bird baths to benches.
"I really, really like this event because it's about the community more than it's about Van Go," Freese said. "It's about getting people together and supporting a good cause."
Program participants built and painted the majority of the items, with some selling for as much as $4,100. Freese said that seeing how much people are willing to pay for art provides a boost of confidence.
"It's really cool to see your artwork being sold for that much money," she said.
While program members made many of the items, others were donated, such as a piece painted during the event by local artist Stan Herd.
Herd said that he was glad to help a program that gets youths in touch with their artistic sides.
"I am amazed at all the things Van Go does," he said.
Community donations did not stop at auction items. Local Burger donated vegetarian food for the meal, and stores like Kohl's and Best Buy provided employees as some of the 50 volunteers who worked the evening.
All of the money raised goes back into the program, located at 715 N.J. Van Go currently serves 22 people ages 14-21. All participants either live below poverty, have mental diagnoses or are special-needs students. Much of the program focuses on woodworking, painting and mosaic creation. Van Go, which is in its 15th year, provides a social worker as well as a creative director to help participants and direct them in the creation of their art.
Freese said the program teaches teamwork and how to give constructive criticism. Participants often work in teams, and those who stand out become team leaders. Freese, who has participated in the program for two years, is one of these leaders, something she says she will put on her resume when heading off to Johnson County Community College next year.
Copyright 2018 The Lawrence Journal-World. All rights reserved. This material may not be published, broadcast, rewritten or redistributed. We strive to uphold our values for every story published.