Photo Gallery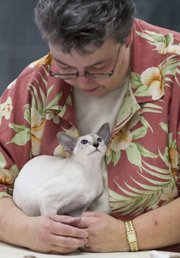 K.C. Midwest Cat Club Show
In a show shelter sits a white cat named Bipolar Bear, a Maine coon with a long body and a shiny coat. Owner Chris Buck scoops her out to pet her. The cat is pleased, purring.
Bipolar Bear was one of 87 cats competing in Saturday's annual Kansas City Midwest Cat Club Show at the Douglas County Fairgrounds, 2120 Harper St.
"I think the day has gone really well," said Amy Hanson, manager of the show. "We didn't get quite the numbers we hoped we'd get as far as entries, but the competition is good."
There were four classes of cats competing: kittens (up to 8 months), purebred adults, alters (purebred adults that have been spayed or neutered) and household cats.
Those competing accrue points throughout the show season by going to different shows across the country. Those points go toward awards in the region and possibly awards from the American Cat Fanciers Association Awards from ACFA are called Inter-American awards.
"Inter-American awards are what you strive for when you're showing a cat," Hanson said.
Hanson started showing cats 10 years ago. Her first was in the household pet category, a rescue cat that was white with a brown tabby splotch on his back and tail.
"You don't have to have a purebred cat to compete in shows," Hanson said. "A lot of people get involved with the household pet class and graduate into pure breeds."
There were 19 breeds at Saturday's show. Among them was Brisa (pronounced Bree Sa), an Australian Mist, one of 12 in the United States. Gary Morke and his wife, Candy Rishavis, are her owners.
Brisa had won second and third place in the kitten category. It was her first show, and she was reacting well — a sign she'll be showing again.
"Some cats really thrive on this; they love people handling them," Rishavis said. "I've got a couple at home you can't show. .. They just don't thrive in this environment, and we don't show if they don't want to come."
Most of the cats seemed to enjoy the show as much as their owners. It was only Bipolar Bear's second show, but he was as content and comfortable as if he were at home.
"He thinks this is cool," Buck said. "It's fun. He purrs. He likes everything about this."
Copyright 2018 The Lawrence Journal-World. All rights reserved. This material may not be published, broadcast, rewritten or redistributed. We strive to uphold our values for every story published.