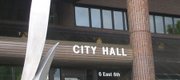 Subscribe to the email edition of Town Talk and we'll deliver you the latest city news and notes every weekday at noon.
News and notes from around town:
• The area near Eighth and Pennsylvania streets continues to be one of the surprise economic development stories of the year. As we have reported many times, there is a multimillion-dollar renovation underway at the Poehler Grocery Warehouse building.
Work to convert that four-story building into rent-controlled apartments is progressing quickly. Developer Tony Krsnich told me recently residents may start moving into the apartment complex by the last week of June but certainly by July 1.
Now, it appears the project is shifting into a new gear. As we have previously reported, Krsnich has plans to renovate a building just south and west of the Poehler building into a new venue for art and office space. The project appears to be getting more serious because Kresnick now has filed a request for public incentives for the project — which is dubbed the Cider Building project because it will renovate an old building that once was home to a cider vinegar factory.
Krsnich has filed paperwork at City Hall to use the Neighborhood Revitalization Act as part of the project. An NRA essentially is a property tax rebate program. I haven't seen the specific details of the request yet, but Kresnick said in a letter to city officials that the complexity of the project would require him to seek the maximum amount of rebate possible. What will be interesting to see is if the project also requests the city to send significant amounts of money to repair infrastructure near the building. The city has budgeted to spend about $1.4 million to repair several streets and improve other infrastructure in the area near the Poehler building. But none of the improvements include repairing Pennsylvania Street, which is the street the Cider Building sits along.
As for the Cider Building project itself, it remains much as previously reported. The ground floor of the building would be a large art gallery that could be leased for special events. The project also would include an equally large outdoor plaza area that could house art and events. The second floor of the building would be small offices that Krsnich would rent on short-term, favorable leases to entrepreneurs looking to get a start or for established businesses that don't have a need for large-scale office space.
The development already is attracting other developers. Longtime Lawrence landlord George Paley is working to convert another building — known as the T-shirt building — just south of the Cider Building on Pennsylvania into an artist workshop space. In fact, I believe the approximately 10,000-square-foot building is ready for some artists to move in.
Paley a few weeks ago told me the concept is to provide cheap, largely unfinished space for artists to use as workshops. The building eventually will be divided into 400- to 500-square-foot spaces for artists to rent. The longer term goal is for the space to become an incubator where artists and scientists can collaborate. Paley and others had been working to create such a project in one of Paley's building's along 23rd Street, but Paley said the momentum created by the Poehler project caused the project to move to the T-Shirt building, which is named as such because a T-Shirt printing company used to be located there.
One last thing about the Poehler building: I've had several people ask me how the rent-controlled aspect of the apartment project works. As you might remember, the project has limits on what it can charge for rent because it received a multitude of state tax credits that provided favorable financing for the project. As a condition of those tax credits, rents must be controlled but the rent-controlled apartments also must be rented to people who meet certain income guidelines.
Well, I now have some more details about that. According to marketing material for the Poehler project, one-bedroom lofts will range from $425 to $540 per month, and two-bedroom lofts will range from $530 to $680 per month. As for the income limits, they vary. A one-person household can make no more than $30,060; a two-person no more than $34,320; a three-person no more than $38,640; and a four-person no more than $42,900. Exactly how income is defined, I don't know. Krsnich said he has a person on staff who works with people to determine if they qualify.
The project also has restrictions on whether students can qualify for the project. For example, it appears a full-time student would have to meet one of several exceptions to qualify, such as not being a dependent on your parents' tax return.
• The idea of art as an economic development driver is getting more talk all the time. Wednesday's announcement that the city is working to buy the Salvation Army building to create a new downtown art area added to that talk.
I believe what artists would like to hear more talk of is works that are actually selling. Perhaps that is on the uptick, and it may not be as the result of new galleries and such (though I hear sales have been reasonable at the monthly art events downtown).
But a trend to keep an eye on is whether private development projects will buy local art for their decor. There are some signs it is happening. Krsnich at the Poehler building told me a couple of weeks ago that he has begun seeking out local artists to buy dozens of pieces of art to decorate the hallways and public spaces with local arts. As he told me, he isn't about to decorate a project geared toward local artists with "crap from IKEA." My understanding is he likely will spend several thousand dollars on local art for the project.
When I was at Minsky's recently, I noticed a lot of art on the walls of the pizzeria, including a striking modern art version of a Jayhawk. An employee at the restaurant told me a Minsky's server actually created many of the pieces. More interesting, though, is that I've heard Doug Compton — who is the landlord of the Minsky's building was so taken by the pieces that he has commissioned 10 works from the artist.
I mention all this because as the city contemplates spending more money on public arts projects, it probably is worth remembering that private buying likely will be the determining factor of whether the arts become a major economic driver in Lawrence.
But it will be interesting to see if the city takes advantage of a future opportunity to spend public money on art. The Lawrence Public Library is undergoing an $18 million renovation. The city has a policy where it generally tries to incorporate a public piece of art as part of every major public building project. Sometimes I've heard it called a percent for art, sometimes 2 percent for art, but the truth is there is nothing hard and fast about it. The city manager frequently has reminded people there is no requirement that the city spend any amount on art. The policy is really just more of a suggestion.
At $18 million, one percent would be $180,000 for public art in the library. Will the city spend that much to place art in the library, a location that generally has been considered to be one of the most heavily visited locations in downtown Lawrence? A few days ago, I would have told you no. But if the city is willing to spend $1 million for an outdoor arts space, perhaps $180,000 will be no problem for City Hall.
• If your idea of art is a lawn chair, a star-filled sky and a movie about a dog saving the world, then you're in luck. Although Lawrence has struggled to find a venue for its outdoor summer film festival, Eudora has no such problems.
The city of Eudora is hosting its first Family Fun Night at 7:30 p.m. on Friday at Laws Field — which is the football field just north of the Church Street interchange on Kansas Highway 10.
From 7:30 p.m. to 9:15 p.m. there will be laser tag, an obstacle course, a video game theater and human hamster balls. (My wife seems particularly interested in getting me inside that. She also has been asking whether I have a chain and a lock anywhere.)
Beginning at 9:30 p.m. Eudora Parks and Recreation will be showing the movie "The Adventures of Tintin."
The entire event is free to attend. Eudora Parks and Recreation has two more of the movie events scheduled. The dates are set for July 20 and Aug.17. The August event is tentatively scheduled to be held at the Eudora outdoor swimming pool.
Copyright 2018 The Lawrence Journal-World. All rights reserved. This material may not be published, broadcast, rewritten or redistributed. We strive to uphold our values for every story published.