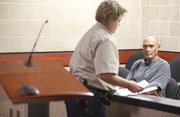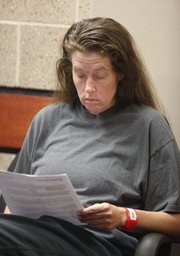 Douglas County prosecutors on Thursday charged two Illinois parents with inflicting "cruel or inhumane corporal punishment" on two of their young children found Wednesday blindfolded with their hands bound behind them in the parking lot of Walmart in west Lawrence.
Adolfo Gomez Jr., 52, and Deborah Martha Gomez, 43, both of Northlake, Ill., face two counts each of child abuse and five counts of aggravated child endangerment. Adolfo Gomez is also charged with one obstruction count because he was accused of resisting Lawrence police officers who subdued him with a Taser Wednesday morning near the family's vehicle outside the store, 550 Congressional Drive. All counts are felonies.
Thursday's bond hearing revealed few additional details about the case other than what police had provided, and Sgt. Trent McKinley, a police spokesman, said detectives were still investigating the case trying to learn more about why the young children had their hands bound. Three older children, ages 12, 13 and 15, were also in the older Chevrolet Suburban that police said had experienced trouble Monday evening as the family was traveling to Arizona. That's how they ended up in the Walmart parking lot.
Officers were called to Walmart about 10:30 a.m. Wednesday after a customer saw a boy with his hands behind his back near the vehicle on the west side of the parking lot. Police discovered both the 5-year-old boy and a 7-year-old girl were blindfolded and had their hands bound behind them.
"This is a very unusual and disturbing type of event. It's certainly not something that many of us have seen," McKinley said. "None of us know what would have happened if we didn't have an intervention by the person who was shopping at Walmart who not only saw something but called the police."
Charges
Assistant District Attorney James McCabria said he could not comment about specific facts of the case but that prosecutors believed the events fell in line with statutory language in the charges. That included the mention of "cruel or inhumane corporal punishment" on the child abuse charges.
In the aggravated child endangerment counts, the couple are accused of recklessly causing or permitting their five children to be placed in a situation in which their "life, body or health may be endangered."
Pro-tem Judge James George agreed to set bond for Adolfo and Deborah Gomez at $50,000 each, but there was no discussion of either defendant's criminal history during the hearing. McCabria said he could not comment on the couple's criminal history.
"We based (the bond request) on the facts and circumstances of the incident," he said.
Both Adolfo and Deborah Gomez, who appeared in court separately via video from the Douglas County Jail, said little during their hearing, and they did not protest the requested bond amount. George also ordered them not to have contact with each other or any of their children if they post bond.
George appointed defense attorney Elbridge Griffy to represent Adolfo Gomez and Angela Keck for Deborah Gomez. They are scheduled to appear in court again next Thursday in front of District Judge Paula Martin.
The child abuse counts each carry potential prison sentences of 31 months to 136 months. The aggravated child endangerment and obstruction counts carry sentences of five months to 17 months, although they are presumptive probation unless a defendant has at least two past person-felony convictions.
Protective custody
Police have said that Adolfo Gomez is the father and Deborah Gomez is the mother of the children. Officers said both are from Northlake, Ill., a Chicago suburb. Jail records list the mother's address as another suburb, Bensenville, Ill., but McKinley said that could be because the parents were uncooperative. Douglas County Jail staff members likely pulled the address from a form of identification, he said.
After officers used a Taser to subdue Adolfo Gomez on Wednesday, they arrested Deborah Gomez inside the store without incident.
Medics checked out the children at the scene, but they were not hospitalized, McKinley said.
After the two younger children were taken into police custody, the three older children initially refused to leave the Suburban until they were later taken into protective custody as well. For now, all five children have been placed in temporary protective custody, pending a court hearing, McKinley said. Police and social workers are working with Illinois social workers. He said they had identified extended family members for the children. During the process a judge could determine if any family members could safely take custody of the children.
"Family members are usually a less traumatic type of placement for children," McKinley said. "I just don't know at this point in time what the family's dynamic is."
A Chicago NBC affiliate on Thursday quoted a neighbor, Kathy Grotefend, who said she encountered Adolfo and Deborah Gomez last week as they were selling all of their belongings in preparation for the end of the world.
"She said she believes it's the end of the world and they don't need this materialistic stuff," Grotefend told the TV station.
McKinley said detectives were working on answering more questions as well.
"We're trying to create a time line of what has occurred in past days and weeks with this family," he said. "We would like to attempt to determine what the adults' intentions were with the children and as to why the children were bound."
This isn't the first time the couple has faced legal troubles, according to The Chicago Tribune.
The newspaper reported that Deborah Gomez pleaded guilty in 1998 to misdemeanor endangering the life of a child and admitted leaving two young sons, who were 2 and 3 at the time, home alone for eight hours one night several months earlier at the family's apartment in Naperville, Ill. In 2001 prosecutors in DuPage County brought her back to court to force her to comply with counseling and parenting classes.
The newspaper also said Adolfo Gomez served less than 3 years for burglary and theft convictions in 1984 and that he spent 12 days in jail in Illinois earlier this year related to a DUI conviction.
Copyright 2018 The Lawrence Journal-World. All rights reserved. This material may not be published, broadcast, rewritten or redistributed. We strive to uphold our values for every story published.