The Lawrence Raiders of the American Legion Baseball League fell to the Topeka Capitals, 4-3, Tuesday at Lawrence Free State High School.
Raiders starting pitcher JD Prochaska was in control in the early innings as he struck out the side in the first.
The Raiders' offense threatened in the first two innings and loaded the bases in the second, but was unable to push any runners across the plate.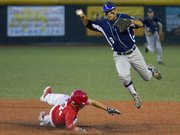 Cam Solko picked up right where Prochaska left off as he pitched another scoreless inning, but the Raiders appeared to be in trouble when Topeka's Jordon Haugen led off the top of the fourth with a triple. Raiders reliever Trent Johnson proceeded to strike out Jaren Kutzke followed by catcher Landon Hay picking off Haugen at third base. Johnson then retired Macke to end the inning.
In the Raiders' half of the fourth, Landon Hay legged out an infield single to open the inning. Corbin Francisco went on to drive Hay in with an RBI double down the third base line to give the Raiders a 1-0 lead.
The Capitals answered in the top of the fifth to tie the game at 1-1. Johnson walked the first two batters he faced, and then Dawson Pomeroy laid down a sacrifice bunt to move the runners into scoring position with one out. Vince Ramos knocked Will Edwards in with an infield single, but Johnson retired the next to batters to escape further damage.
CJ Roush put the Raiders back on top with a leadoff triple, and he came into score on throwing error to give Lawrence a 2-1 advantage.
"Coach (Brad Romme) just told me to get out in front of it because the first two at-bats I just kind of popped up, so I just made an adjustment and hit the ball hard," Roush said.
The Raiders' lead did not last for long, however, as Topeka's Zach Macke hit a two-RBI double to allow the Capitals to retake the lead. Topeka added another run on a fielder's choice to take a 4-2 lead going into the bottom of the sixth.
After each team was unable to score in their next half inning, the Raiders needed two runs in the bottom of the seventh to force extra innings. Roush got things started for the Raiders with a one-out triple and then came in to score on Aaron Gile's RBI single. That was all Lawrence would get and Topeka was able to hold on for a 4-3 victory.
Lawrence will be back in action in a tournament Thursday in Topeka at Shawnee County Amateur Baseball Assn.
"From what I have seen so far is a lot of good teams in this tournament," Romme said. "They will be much better teams than what we saw in the Mid America tournament so we're going to have to be locked in."
Capitals 000 013 0 — 4 3 1
Raiders 000 110 1 — 3 10 1
W — Foerg. L — Francisco.
2B — Francisco, L; Macke, T. 3B — Roush 2, L.
Raiders highlights — Francisco RBI, SB; Gile RBI, SB.
Copyright 2018 The Lawrence Journal-World. All rights reserved. This material may not be published, broadcast, rewritten or redistributed. We strive to uphold our values for every story published.