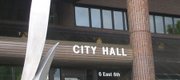 Subscribe to the email edition of Town Talk and we'll deliver you the latest city news and notes every weekday at noon.
News and notes from around town:
• If you were hoping the city would add a curbside recycling component to its city-operated trash service sometime in the near future, you may be out of luck.
If you were hoping state government would find a way to slow cities from starting curbside recycling programs, well, you're in the right state.
Lawrence city commissioners at their Tuesday evening meeting will start the process of formally exploring the creation of a new citywide curbside recycling program.
But as part of their research on the subject, city staff members have found a state law that will require the city to delay the start of any such curbside recycling program for at least two years.
A pair of state statutes enacted in July 2011 require the city to go through a lengthy process to add curbside recycling to the list of services the city provides.
In short, state law requires the city to pass a resolution of intent to start a curbside recycling program. City commissioners will consider doing that at their Tuesday meeting. But the state law then requires at least a 90-day waiting period before commissioners can be presented with that plan. Just for good measure, another 30 days are thrown in there before commissioners can actually adopt the plan.
Then, the big waiting period begins. Once the plan is adopted, according to state law, the city can not actually start operating a curbside recycling program for at least another 18 months. Given all that, the soonest the city could start a curbside recycling program is June 2014, according to a city memo.
As I understand it, the state law doesn't impact the ability of private companies to enter a community and start their own curbside recycling service — which Deffenbaugh and several smaller companies have done in Lawrence. Instead, the law impacts the ability of city governments to operate a curbside recycling service as part of a city utility. That is what the city plans to explore: a service that may be run by a private company but would be included on the city's monthly water, sewer and trash bills. All city residences would be required to pay for the service regardless of whether they use it.
The 18-month waiting period could have some interesting ramifications. It will allow the various private companies operating in town a longer transition period to prepare for the inevitable harm a citywide service would inflict on their small operations.
But the waiting period also will give the issue more time to become a political hot potato. With an 18-month waiting period, that makes it very likely there will be a City Commission election in between the time the city passes a plan and the time it actually starts. Perhaps that is the intent of the state law, given some people argue a recycling fee is very similar to a tax because residents won't have any easy way to avoid it.
I don't know. But surely state legislators know what they're doing on this subject. After all, this is the same group that brought us the great exercise in efficiency known as redistricting.
• So, what may a city-operated curbside recycling program look like? As noted, city leaders will have plenty of time to hash that out. But city staff members are presenting some ideas at Tuesday's meeting. Here's a look:
— The idea of mandatory pay but voluntary participation is still at the top of the list for city staff members. Every residence in the city would have an as-yet-undetermined amount added to its monthly water, sewer and trash bill. But residences wouldn't be required to put their recyclables in a recycling container. They can still throw such material away, but the city is betting many folks won't if they are having to pay for the service anyway.
— Businesses would not be part of the program, as currently proposed. A staff memo notes that many businesses already have private contracts for recycling, and some count on revenue from selling recycled materials.
— Apartment complexes would be included in the program. As proposed, all apartment complexes would have some type of recycling bin that will be emptied by the city or its contractor. At the moment, it looks like apartment dwellers would pay the same monthly rate as homeowners, even though the service wouldn't exactly be curbside for apartment residents.
— As for rates, the city still doesn't have an estimate of how much it would add to a monthly bill. There is a lot of discussion among some city leaders of having the rate near $5 per month or less. But city officials don't know if such a rate is financially feasible. Determining a feasible monthly rate is one of the main reasons the city wants to get proposals from several private companies.
— City staff members want to explore an option where a private company would run both the collection and processing of recycled materials. Staff members also want to explore an alternative where the city would run the collection of the materials but a private company would handle the processing. Under either scenario, the city would be responsible for billing and other administrative matters.
— The city is strongly leaning toward a single-stream recycling option. Such a system would allow residents to throw all their recyclable materials into a single container. But what materials would be accepted? The city is expecting all the standards such as newsprint, mixed paper, office paper, corrugated containers, tin and steel cans; aluminum cans, and plastics coded No. 1 through No. 7. But the city is making no promises on whether glass bottles and jars would be collected. The area's largest processing center for recyclable materials — operated by Deffenbaugh in Kansas City — doesn't process glass. But there is a ready buyer for glass in Kansas City — Ripple Glass — which some have suggested should make it feasible for the city to collect glass at the curb.
— The staff memo suggests the city should receive bids for both a once-per-week service and a once-every-other-week service. But the city's Solid Waste Task Force certainly was leaning toward a once-per-week service.
• City commissioners at their Tuesday meeting also will consider moving ahead on a plan to purchase trash carts that residents would be required to use instead of their standard trash cans or bags. Commissioners on Tuesday will be asked to allow staff members to seek bids for the 23,000 carts that will be needed for the trash system. (If commissioners move ahead with a curbside recycling program, the city will need to purchase additional carts at a later time.)
We've previously reported on the details staff members are recommending on trash carts, but here's a reminder:
— A 65-gallon cart would be the standard size issued to households. City staff members are estimating the 65-gallon cart will meet the trash needs of a typical four-person household, especially if the household recycles some of its trash. Households would be provided the city-owned cart at no additional charge.
— A 90-gallon cart will be issued to households that are having a difficult time fitting their trash into the 65-gallon cart. Households that choose to have the 90-gallon cart would pay $1 a month.
— The new trash system would allow households to place bags of trash at the curb, if their cart is full. There would be no extra charge for picking up a bag or two, but the city has indicated it wants such activity to be the exception not the rule. The memo proposes that route drivers and solid waste supervisors keep a log of households that regularly set out bags of trash. The memo doesn't state it, but I suspect that system will be used to approach people who are constantly setting out bags to upgrade to the 90-gallon cart.
— A 35-gallon cart will be offered to households that believe a 65-gallon cart is simply too large. Staff members, however, aren't recommending that households receive a price break for taking the 35-gallon cart instead of the 65-gallon version.
— The city would provide a program for a limited time to allow residents to recycle their old trash cans. The memo states several trash cart companies will take the old trash cans and recycle the plastic to use in new carts.
— Staff members are estimating that about 7,000 households will see their monthly trash bills go down as a result of the new program. That's because about 7,000 households currently rent a trash cart from the city. Most rent a 90-gallon cart. They pay the city an extra $2 per month, currently, to rent those 90-gallon carts. The new system would charge $1 per month, so my abacus tells me that would be a savings of $1 per month. If those folks who rent a 90-gallon cart today decide they'll try to make a 65-gallon work, they'll save $2 per month. That's because the city wouldn't charge a rental fee for the standard 65-gallon cart under the new system.
— The city is estimating it will cost about $1.13 million to purchase the 23,000 carts. The city previously has set aside about $1.12 million to make upgrades to the city's trash system.
Copyright 2018 The Lawrence Journal-World. All rights reserved. This material may not be published, broadcast, rewritten or redistributed. We strive to uphold our values for every story published.