Photo Gallery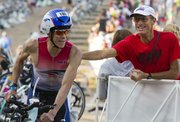 Ironman 70.3 Kansas 2012
Prior to Sunday, Clayton Fettell had never experienced Ironman 70.3 Kansas.
But the Australia native and Boulder, Colo., resident might as well call Lawrence his third home after crossing the faux yellow-brick road at the finish line first at Clinton State Park.
Fettell led after every stage — a "super-choppy" 1.2-mile swim, a gusty 56-mile bike ride and a hot 13.1-mile run — before hoisting the finish-line banner above his head following his 3 hour, 57 minute triathlon journey that concluded with him going back and forth between drinking bottles of water and dousing himself with them.
The water helped Fettell feel comfortable in the late-morning heat, but his familiarity with Lawrence aided him much more. Just two years ago, Fetell stayed here for four months of training.
"I love the town. I love the indie-alternative scene," Fettell said, adding he sometimes refers to Lawrence as "East Boulder."
The 2012 Kansas champion has many friends in Lawrence. He would have to count Sunflower Outdoor & Bike owner Dan Hughes among them after encountering "a pretty bad mechanical issue" with his bike the day before the race. Hughes lent Fettell the equipment he needed to compete.
"That's a thousand-dollar bike part," Fettell said. "And that's service you don't get anywhere around the world. You come here, and it's almost like a home away from home."
Just one week earlier, Fettell won for the first time on U.S. soil, taking first at Ironman 70.3 Mooseman, in New Foundlake, N.H. Conditions were colder there, making for a completely different challenge at the Kansas triathlon.
"The course today, man, was so hard," Fettell said. "It was kind of like racing back home, on the very north tip of Australia."
The 26-year-old considered winning back-to-back 70.3-mile triathlons the highlight of his career, especially since he held off Ironman Australia champion Paul Ambrose (second place, 3:59.34) and Ironman St. George (Utah) champ Ben Hoffman (third, 4:00.44).
Fettell was proud of the win and minutes afterward already had plans to celebrate.
"I'll be certainly having a few beers tonight," the gregarious winner said.
Almost 17 minutes after Fettell won the men's pro division, Rachel Joyce earned the Ironman 70.3 Kansas women's championship. She high-fived the costumed Scarecrow and Tin Man before crossing the finish line at the 4:13.47 mark.
Joyce calls London her hometown, but she just moved to Boulder — part-time home of Fettell — six weeks ago. Pro triathletes flock to the Colorado city, Joyce said, for the benefits of training at a high altitude and "stunning" bike rides.
"It's a bit of a hub," Joyce said. "Throw a stone, and you hit a triathlete."
Also like Fettell, Joyce won Ironman 70.3 Kansas in her first attempt and had some familiarity with Lawrence before the race. Her parents, Jane and Stephen, used to live in the Kansas City area. When she visited, the three of them would have lunch and spend time in downtown Lawrence on Mass. Street, where her parents would get supplies at Brits.
But Sunday was the first time Joyce had the chance to view the Kansas countryside while competing.
"It's pretty cool scenery, if you look up," she said of the bike ride.
Joyce, 33, had a sizable lead entering the final stage of the triathlon. With so many spectators lining the course and cheering, she wanted to finish her run as fast as she could. It took her only 1:21.21 — the sixth-fastest time overall, among men and women — to complete her 13.1-mile run.
The 2011 Henderson (Nev.) ITU Long Distance Triathlon champion used to joke that she was "mediocre" at each triathlon stage, but now she finishes strong.
"Recently, my run has really improved," she said. "Whereas I used to get on the run and have to be looking over my shoulder."
That wasn't a problem for the first-time Kansas champ. Joyce finished nearly 23 minutes ahead of runner-up Amanda Stevens (4:36.26), from Enid, Okla.
Copyright 2018 The Lawrence Journal-World. All rights reserved. This material may not be published, broadcast, rewritten or redistributed. We strive to uphold our values for every story published.