Just after midnight on the morning of June 7, 1944, from a precariously secured point in Normandy, Capt. Roy Creek breathed a sigh of relief.
"Ah," he said about the experience, which was 68 years ago this week, during a talk at the Dole Institute of Politics on Kansas University's West Campus on Thursday. "At least now D-Day is over."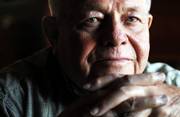 At least, the initial invasion by Allied troops was over and on its way into the history books, but, of course, the mission was far from complete. Creek and the 82nd Airborne Division had parachuted into France behind enemy lines and into one of the most famous battles of World War II. Shortly after, Creek and fellow soldiers in the 507th Parachute Infantry Regiment successfully captured and held a bridge near Chef-du-Pont, France. He survived and continued a military career long after the war, eventually retiring as a colonel. A resident of Lawrence, he's now 94 years old.
Creek spoke to about 100 people, several of whom were veterans of some kind themselves, at the Dole Institute with Robin Reed, president of the National D-Day Memorial in Bedford, Va.
Events like this one are important to continue to remember D-Day and bring it to life to new generations of people, especially as the number of surviving World War II veterans decreases, Reed said.
The national memorial is in Bedford because it was determined to represent the highest per-capita death rate from the invasion — 19 soldiers from the town were killed in the first day. But as crucial as the memorial is as a repository of history, the veterans themselves are more so, and though many of them, including Creek, didn't fully express their thoughts and feelings about that day in 1944 until its 50th anniversary, capturing their memories is a vital endeavor to understanding history.
"The movies, books and the like, they don't do it justice to experience what it was like," Reed said. "You don't know until you talk to the veterans."
Creek told stories of his D-Day experience, saying he could sum it up in one word: "Water." He had to wade through more than a mile of water and at times, he said, feared drowning more than artillery. And before he even got to the water, he feared for his life in the air because of hectic, elusive flight patterns that made it appear that a head-on collision of the planes carrying paratroopers could happen at any moment.
"I was so happy to see the green light," he said, referring to the signal to jump.
And then there was flash. "Flash," Creek said, was to be the password for troops to acknowledge each other with once they landed. On the ground after his jump, Creek heard a rustling of a solider nearby. "Flash!" he said to the unknown man. "Flash? Hell, I'm Colonel Maloney," came the response. Creek laughed about the close call on Thursday, reminiscing about his commander, who was later injured and no longer remained in action.
More than 4,000 soldiers died in the invasion and their names are remembered at the memorial, one of the few memorials for just one 24-hour period, Reed said. He's now working on remembering them through new means, like tweeting excerpts from soldiers' diaries.
Creek remembers the pain of loss, but also the importance of D-Day in the eventual Allied victory.
"I felt that it was a successful day," Creek said.
Copyright 2018 The Lawrence Journal-World. All rights reserved. This material may not be published, broadcast, rewritten or redistributed. We strive to uphold our values for every story published.