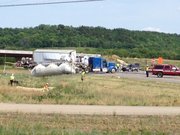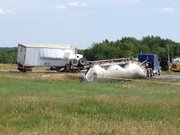 A man was flown by air ambulance to Kansas University Hospital with life-threatening injuries after two semitrailers collided on U.S. Highway 59 south of Lawrence Wednesday afternoon.
Sgt. Steve Lewis, a Douglas County Sheriff's spokesman, said the crash occurred just before 3 p.m. when the driver of a westbound semitrailer carrying cement mix on North 1000 Road, or Wells Overlook Road, was struck by a northbound semitrailer carrying water and farm supplies.
Lewis said the farm semitrailer, owned by Guenther Brothers Farms of Lawrence, sustained significant damage, and the driver, a man, was ejected from the vehicle. He was flown via a LifeStar helicopter ambulance to Kansas University Hospital in Kansas City, Kan.
"He was conscious and alert when we got to him," Lewis said.
Lawrence-Douglas County Fire Medical spokeswoman Eve Tolefree said medics believed the man's injuries were life threatening. Lewis said the driver of the other truck was not injured.
Tolefree said firefighters also responded due leaks of oil, diesel fuel, and an unknown chemical from both vehicles.
U.S. Highway 59 was shut down likely for several hours and reopened at about 9:30 p.m.
Lewis said Wednesday night a preliminary investigation indicates the westbound semitrailer's driver failed to stop at the intersection. However, officers are still investigating the crash.
Sheriff's officials did not identify the injured driver.
Copyright 2018 The Lawrence Journal-World. All rights reserved. This material may not be published, broadcast, rewritten or redistributed. We strive to uphold our values for every story published.