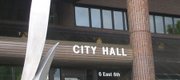 Subscribe to the email edition of Town Talk and we'll deliver you the latest city news and notes every weekday at noon.
News and notes from around town:
• It looks like a new national clothing retailer is coming to Downtown Lawrence. White House/Black Market — a brand run by the folks who run the Chico's stores — has begun advertising for employees for a new downtown Lawrence store.
A company official didn't return my phone call yesterday, but my understanding is the store will locate at 714 Mass., which is the building that formerly housed House Parts.
The company began running help wanted advertisements recently on an Internet job board. The advertisement said the store would be located on Massachusetts Street, but didn't provide further details. I called the local Chico's store, 643 Mass., and an employee there confirmed the store was coming to Lawrence, but she didn't have information about a timeline or location.
As far as the store itself, it looks like White House Black Market specializes in women's clothing and accessories. And from what I've read, it puts a pretty heavy emphasis on having clothes that are either black or white. And based on what I've been able to gather from meticulously researching the photos of models on the store's Web site, the brand is more geared toward young working women — say 25 and up — rather than the teen set.
Chico's FAS — the parent company — describes the brand as primarily selling "exclusively designed, private branded clothing for women offering a uniquely feminine and affordable alternative to designer fashion." Its offerings include "everyday basics, to wear-to-work to elegant fashion, primarily in black and white and related shades with seasonal color splashes." So, take from that whatever you think it is worth. Personally, I liked my research methods better.
It looks like the stores — which often are branded WH/BM — have been part of the Chico's company since 2003. Currently there are about 365 of them across the country. It looks like the company has about five stores in the Kansas City area, including in The Legends and Oak Park Mall.
When I hear something official from the company, I'll let you know.
• Yesterday we reported on plans for a new Alzheimer's unit in West Lawrence, but said the ownership of the facility was a bit of a mystery. Well, it is a mystery no more.
Diane Ensminger, the CEO of Ballard Community Services, has confirmed that she will be the CEO/owner of the facility, which will be called Allie's Village.
Ensminger said she plans to remain in her current position as leader of the Ballard Center, while also operating this new venture.
Allie's Village is named after Ensminger's mother, who has been living with Alzheimer's since 2006. Ensminger said the facility will be structured to be a home environment instead of a hospital-like environment. Spouses will be able to live at the facility. But the facility also will be staffed by a registered nurse and medical aides on a 24/7 basis, Ensminger said.
She said she hopes to have Allie's Village open by the first of the year.
• Attention data dorks: There are some new numbers hot off the adding machine. And I suspect they are the type of numbers Kansas Gov. Sam Brownback may point to when justifying his new tax strategy for the state.
The Bureau of Labor Statistics this morning released its new Gross Domestic Product estimates for each state, and Kansas did not end up where state leaders had hoped.
The state's total economy did grow in 2011, but its growth rate was so slow that it ranked in the second lowest quintile of states. (Nothing like a quintile to get your morning started.) In contrast, Texas — a state our governor seems fascinated with — ranked in the top quintile of all states. I'll leave it up to you all to debate the differences and similarities between the Sunflower state and the Lone Star state.
In the meantime, here's a look at some numbers from the BEA report.
— Kansas' GDP grew by 0.5 of 1 percent, which ranked the state 35th in terms of GDP growth rate. It was better, however, than the six states that actually saw their GDP shrink in 2011.
— Kansas — like the majority of the states — saw its rate of GDP growth slow in 2011. In 2010, the state's GDP grew by 2.7 percent, but the economy was not able to keep up that pace in 2011.
— Compared to the other six states that make up the Plains Region, Kansas' economy did not fare overly well. Here's how the other states' economies grew:
North Dakota: 7.6 percent (tops in the nation)
Iowa: 1.9 percent (12th)
Minnesota: 1.2 percent (23rd)
South Dakota: 0.8 percent (31st)
Kansas: 0.5 percent (35th)
Nebraska: 0.1 percent (42nd)
Missouri: 0.0 percent (43rd, and there is something natural about Missouri being a zero.)
— The numbers show Kansas has not done a good job in bouncing back from the recession. Kansas' total GDP in 2011 was still less than its total GDP in 2008. Of the seven Plains states, Kansas and Missouri are the only ones in that situation.
— In terms of total size of the economy, Kansas is still middle of the pack when it comes to the Plains states:
Minnesota: $281.7 billion.
Missouri: $249.5 billion
Iowa: $148.9 billion
Kansas: $130.9 billion
Nebraska: $94.1 billion
North Dakota: $40.3 billion
South Dakota: $40.1 billion
— Four areas of the Kansas economy shrank in 2011: Agriculture (-0.66 percent); construction (-0.16 percent); information services (-0.08 percent); and wholesale trade (-0.06 percent).
— Seven areas of the Kansas economy grew in 2011: Finance and insurance (0.23 percent), durable goods manufacturing (0.20 percent), mining (0.15 percent), retail trade (0.14 percent), non-durable goods manufacturing, (0.11 percent), utilities, (0.07 percent), and transportation and warehousing (0.05 percent).
Copyright 2018 The Lawrence Journal-World. All rights reserved. This material may not be published, broadcast, rewritten or redistributed. We strive to uphold our values for every story published.