Among hundreds of Lawrence residents lined up in the Lied Center's parking lot on a sunny Tuesday afternoon to take in a very special view, it finally comes to be Elyssa Weber's turn.
"I see it!" she yells out in delight. "It's a little black dot. That's awesome!"
After a few seconds at a large, specially filtered telescope, she allows Chuck Liu to take a gander. Then the two compare notes on what makes seeing "the little black dot" so terrifically awesome.
"It's about seeing the scale," Weber says, just before jumping into another line to get another glimpse through another telescope. "It's hard to mentally represent how big the sun is — and how small we are."
"I wanted to see it because I knew people were going to be dead before it happened again," Liu says. "It's historic."
The little black dot is the planet Venus, and Weber and Liu were two of the countless observers who, with a little help from equipment to make it safe to look at the sun, got the twice-in-a-lifetime chance to see a Venus transit — essentially, an eclipse of the second planet from the sun. Venus gets in between the Earth and sun in this way twice in eight years, and then not again for more than a century. The last such event was in 2004, but it won't happen again until 2117.
Photo Gallery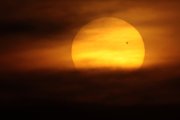 Venus transit photos
Rick Heschmeyer observed the transit in 2004 — and many other interesting cosmological events. He's the president of the Astronomy Associates of Lawrence, a club of professional and amateur sky-watchers who set up their telescopes and filters and invited Lawrence residents to witness the transit at the Lied Center lawn, where, he said, they had a good, tree-free western horizon to see the planet cross the disk of the sun.
The process took some seven hours, with only about three hours of visible time on the continental U.S. before sundown.
"It's pretty cool, partly because there's so much time to see it," Heschmeyer said. "It's not like a total eclipse, when you only have a minute. This is a little more leisurely."
The Venus transit is also a great teaching tool as an astronomical event, he said, because it's three-dimensional. With protections for viewers, observers could see the planet's shadow.
"It shows us the sky's not just beautiful things printed on a sheet," he said of the 3-D aspect of viewing. "It's real and gives us a scale of the universe."
Venus is roughly the same diameter as Earth, but through the transit could be seen as just a tiny speck moving across the burning surface of the sun.
As 14-year-old astronomy buff Gabe Magee put it, "It makes us feel really small."
AAL member Ed Wiley explained the historical significance of the rare event to a crowd around his telescope. It's only happened eight times since the invention of the telescope, and its first observation in the 17th century helped scientists understand the size of Venus, the fact that it has an atmosphere and even the scale of the universe.
But today, it's not as important a scientific feat to see — "we can measure the size of the sun to about a meter; we've come a long way from those days," Wiley said about the initial measurements centuries ago. It's just a rare one, and that makes it an excitement to the people who came out the event on West Campus, and everyone else who viewed elsewhere across the world.
"It's not so important," he said. "It's just magical."
The sight itself, too, was just a little black dot against a bright background.
What it represents is the history of scientific advancement, and a little slice of knowing how tiny people are in relation to the big, wondrous universe.
"The imagination makes it powerful," Venus observer Laura Ashley said. "It's a simple image, but knowing what it means makes it special."
Copyright 2018 The Lawrence Journal-World. All rights reserved. This material may not be published, broadcast, rewritten or redistributed. We strive to uphold our values for every story published.